To conclude 2010, we decided to take a look at one of the most universally employed tools on our higher ed websites: the course catalog/bulletin. So, a couple months ago we put out a survey and called on you to share some information on just how you're doing things, in hopes of being able to supply others with some background as they tackle similar challenges. Seventy-four schools took up the challenge, and now we are ready to show you what we learned. Due to the sample size, please take these results as anecdotal, and as always, the results are available in multiple formats under a Creative Commons license.
So, to get started, let's look at who responded. The lion's share of respondents (43%) come from low-mid sized schools between 1,000 and 5,000 students. Beyond that, just over three-quarters were some form of four-year school. (FYI: you can click to embiggen any of the graphs on the page.)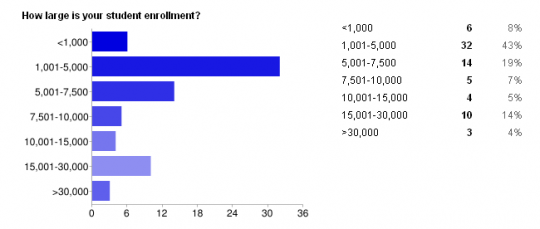 Assuming your catalog isn't currently online, you are in the EXTREME minority (1%). Most schools appear to be getting the whole thing online, while a small portion just do part. Of these, the top two archive methods were PDF (62%) and however their CMS handles it (24%). 18% said they don't archive their catalog online. I found it somewhat interesting that such a large percentage archived via PDF, however, this likely makes sense given the simplicity of consolidating into a single file. This also likely prevents issues with search wrongly returning results from older catalogs to students looking for current information (assuming you can't handle that issue in your search solution).
In the spirit of print, not much is happening in the world of multimedia with regard to catalogs. 5% said they are using it only selectively. 64% have no interest in it at all. The rest said they have interest in it, but have nothing to use. We didn't look at specifically how multimedia was being used, but some suggestions would be things like videos that would assist students in why they'd be using the catalog in the first place: how to do a degree audit, explaining degree requirements, highlighting unique courses. This isn't necessarily somewhere that you need to "sell" things, think task-oriented stuff.
"For those of us on the web side of things, we HATE the print catalog. Students don't use it and it takes the print side of our office months to get 4 catalogs done. However, since the faculty are the strongest voice, it doesn't look like anything will be changing."

~ Survey Comment
The print world she is a-changin' as well. 41% of schools that answered the survey said they no longer offer a print catalog. This particular statistic surprised me some, as I knew the trend was increasing, but didn't imagine it was that far along (again, take this somewhat lightly due to the sample size).  More than a quarter more have started discussions on eventually phasing print out. It seems likely that within this decade, we could see catalogs go entirely print-on-demand.

In the realm of tools, things are more sorted. Just over half (51%) of the schools don't have any actual application to manage their catalog with. Of those, slightly under two-thirds wish they had something though. Obviously, this is reflected in the number of people doing catalog management manually (you have my sympathies). Besides the by-hand method, the most popular management tool is simply whatever they get with their CMS. A surprisingly low number (10%) indicated that they are using a vendor designed catalog tool. Another missed opportunity - it would be interesting to know if people's primary issues with vendors are price or feature related.

"We went with Acalog. It looked good. But we're not happy."

~ Survey Comment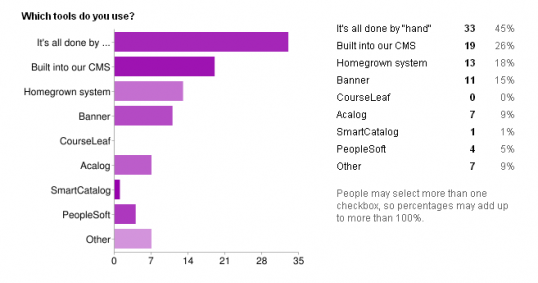 "Our software that builds a catalog front-end to Banner is open source and available here: https://github.com/adamfranco/coursecatalog/wiki."

~ Survey Comment
Finally, what I think is the most telling statistic: satisfaction. Only 35% indicated that they were happy with the way things are now with regards to their online catalog system (that includes 5% that said they were happy doing things manually). Everyone else is either looking to change, or wishes they could. Why is that? Because catalogs are effing hard. Translating a print document to the web is one of the all time great challenges of our industry, because while there are so many similarities, the mediums lack parity in too many areas. I think this goes back to being a big driver in the move away from print. Ultimately, it will simply become more efficient to pick a side and stick with it exclusively (a battle the web will always win).

Ultimately, it's hard to take away a lot definitively that doesn't reinforce what we already see in current trends. There weren't any earthshattering discoveries to be uncovered given the sample size.  But, we're seeing an increase in schools interested in dropping print, and a lot of dissatisfaction with the solutions currently available. Download the raw results yourself if you want to get more information or cross-reference any of the data yourself. Feel free to expand on any of it as well.
---


Higher Ed Catalog Usage Survey Results by Michael Fienen is licensed under a Creative Commons Attribution-ShareAlike 3.0 Unported License.
Based on a work at doteduguru.com.
---
Photo Credit: 

Some rights reserved by joguldi
The content of this post is licensed:

---
---