A few weeks ago we asked you to fill out a short survey to get an idea of the state of social media in higher education.  With 110 unique institutions filling out the survey we have a nice sample size to get an idea of what schools out there are doing.  There were a few duplicates and the one with the most complete data was chosen.  All data is shared and licensed under Creative Commons and you can download the complete results here.
So let's get to the data.
How and What Are We Doing?
One of the very first questions we asked was how people felt they were doing on Social Media on a scale of 1-5 with 5 being the best.  Just like a bell curve most people felt like they were doing ok with a few schools following on both ends.  Schools tended to lean more towards better than worse.  With 82% of respondents telling us they are in charge of their schools social media presence they would definitely know.

People were also pretty split between feeling like they were actually engaging compared to blasting announcements.

This next question related to an article Mike Petroff wrote a few months back about the organizational structure of social media.  With almost 50% of schools using the distributed model and this being similar to encouraged nature of social media I think this feels right.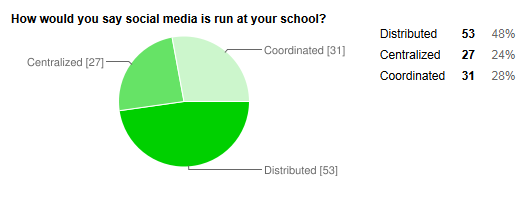 With over 50% of schools saying that they don't have a social media policy this also feels like an unnecessary creation.  If you are looking for a policy then I'd recommend taking a look at the data because about two dozen schools have linked to the one for their school.


Which Social Network
Many of the notes and results point to Facebook being the big gorilla in the room.  With almost everyone having a Facebook fan page it was also interesting to learn that the average number of likes on that fan page was 11,471 (median of 3,464).  It's hard to get an exact count on the number of Facebook groups but with some data massaging and guessing out of the 94 schools who gave us data the average number of groups/pages was over 250 (median of 14).
As for the second most talked about channel, Twitter, of the 95 (86%) schools that gave us their number of twitter followers, the average number of followers was 2,033 (median of 869).  Also of the 104 (94%) schools that gave us the number of official twitter accounts that the school has the average was over 17 (median of 5).

The YouTube data here aligns pretty consistently with recent data we gathered from our State of Higher Ed Video survey.  

LinkedIn continues to gain presence and has passed the 2/3 adoption bar.  With LinkedIn's upcoming IPO announcement it's good to see they are taken seriously by alumni. 


MySpace continues its decline and this is VERY obvious on our data.  One interesting angle that I did dig into was MySpace's relevance to community college and of the 19 schools that mentioned having a MySpace presence 6 did have community or county in their name.  So it wasn't a specific focus of just that niche.
Live streaming has a very low adoption, less than 1/4. 
Leveraging Students For Social Media Marketing
I have always been a big proponent of leveraging students for social media marketing.  The following graphs show which channel schools are leveraging students.

With the number of students who use Facebook for events and groups it's a little surprising to not see a larger number of schools tapping into this Facebook expertise.  It's hard to know exactly what percentage of college students use Facebook, but the best data I could find points that around 96% of college students use it daily. 

Twitter marketing leveraging students is lower than Facebook, which is not surprising.  What is surprising is that it's not by much.

So chances are if you use students for social media marketing it's through YouTube.   

All About Blogs
Of the 91 schools (82%) that listed the number of blogs they have, the average number was close to 14 blogs (median of 4) per school.  With the importance of content creation to online marketing it is good to see schools leveraging multiple blogs in their marketing effort.
What was also interesting to see was the exact same number of schools leverage student bloggers as those that leverage faculty/staff bloggers.  There was a lot of overlap but it was not the exact same list of schools using each.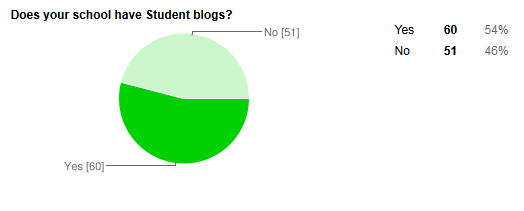 The case has been made for years to get Presidents to blog.  What is interesting is that after all the fanfare we still see less than 20% of schools that actually have Presidents that blog.  Of these 20 Presidents only 65% (13 of 20) actually write their own blog!  This is all the more interesting when our survey told us that there are 14 Presidents out there that have their own Twitter accounts.  We didn't inquire if they actually manage this account though.

Measuring Social Media Results and Advertising
This last section is about ROI and how schools are using social media for advertising.  More than half of schools are actually tracking the ROI of social media.

How schools are measuring social media does bother me.  The fact that 3/4 of schools consider number of followers a valuable measurement is very concerning.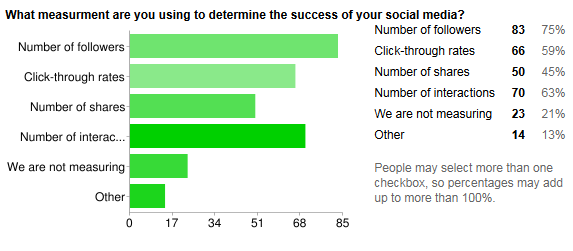 These final two charts show that people are actually looking at social media as a viable advertising platform.  With recent data showing that one third of U.S. online ads now being served by Facebook it is good to see schools are starting to get into this.  It is very affordable and can be great exposure for the cost.  If you're more interested in the CPC/CTR data about these online campaigns we do have some of this that certain schools have shared in their data.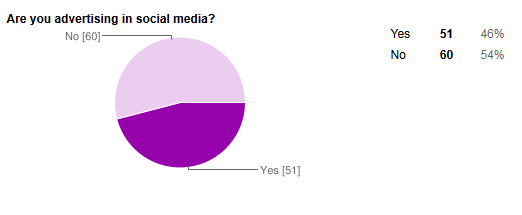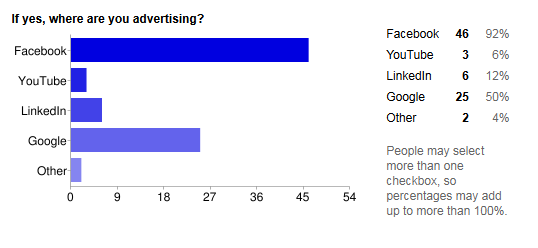 Final Takeaways
There are a few long form questions in the results that are worth looking through.  Specifically there are some really interesting answers to the following questions.
Elaborating on the social media organizational model at schools
What do you think is the most valuable social media tool that you're currently using, and why?
Elaborating on how you leverage students for social media marketing
If you had to start your social presence over what would you change and why?
How will social media change over the next year?  What are you observations about the data? And remember you can download the Higher Ed Social Media Survey 2011.
---
Photo Credit: 

Some rights reserved by ky_olsen
The content of this post is licensed:

---
---