The Millennial Generation is said to be constantly connected through the use of hand-held devices and online media. But how is that technology changing marketing strategies? Take a look at some of these interesting results on the use of social media in US colleges and universities nationwide. In the 2007-2008 academic year, the University of Massachusetts Dartmouth Center for Marketing Research initiated the first of its yearly studies analyzing the use of social media in US colleges and universities. This year they interviewed 456 admission professionals from private and public institutions, ranging in size from 4 – 54,000 students.
The Results

Between 2007 and now, they have found a significant increase in the use of social media in colleges and universities, from 61% of respondents in 2007-2008 using social media, to 100% in 2010-2011. The top social media network being:
98% using Facebook
86% using YouTube
84% using Twitter
66% of schools having a blog
47% using LinkedIn
41% using Podcasts (seeing an almost 100% growth in the past year)
20% using Foursquare
8% use MySpace (the only social medium seeing a decrease over the last year)
All of these results are right in line with the State of Higher Ed Social Media survey we did a few months back.
One interesting development has been the use of blogs, podcasts and videoblogs. While Fortune 500 and Forbes top charities show a shift away from blogging, higher education reports an increase in its use of blogging this year. And they are getting more savvy by implementing RSS feeds and email subscription, providing links to podcasts and video, as well as encouraging conversation involving more user groups and by allowing comments and using live chats.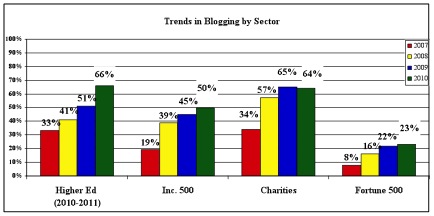 The use of blogs jumped by 15% just in the past year, reporting a success rate equal to that of Twitter and LinkedIn. Facebook and YouTube show the highest success ratings, and while Foursquare is not widely used, it does report high success ratings amongst its users.
Schools use social media not just to inform and recruit prospective students and parents but also to research students and in some cases use that to evaluate students that are considering admitting to their institutions.
Lessons Learned

So what are some major takeaways from these statistics? First of all we see colleges and universities taking up the challenge of evolving recruitment and marketing strategies. Every school surveyed is doing something with social media, which is a 39% increase over the past four years! The adoption metrics have all gone up over the past four years (with the exception of MySpace) as schools get more comfortable with the platforms. But also, the statistics show that schools are evaluating and learning from their social media experiences and are applying appropriate changes as trends shift or grow. The only surprising negative was that only 68% are listening to what is being said about them online by monitoring the internet for news, conversations or buzz about their institutions. Overall the results represent a major shift in school marketing from press releases and news rooms towards a more social engagement through blogs, videos and social sharing websites.
A big takeaway for me was that despite the fact that 100% of you are using some form of social media we still beat up everyone in the industry for not using it enough.  As one specific graph showed in comparing high ed adoption of blogging versus other industries they are far and away doing more in this.  It's practically impossible to say another industry out there has greater than 100% adoption of social media!  I think we've all gotten to a point where it's ok to admit that colleges and universities are doing this and probably better than all other industries out there.  I'm not saying that there isn't room to improve, but everyone should take a step back for a minute and pat themselves on the back.  Overall high ed is leading all internet marketers in adoption and uses of these technologies as an industry and that is worth taking a moment to celebrate.
The content of this post is licensed:

---
---