We had so much fun with the 2011 .eduSummit that we decided to host another one in early April.  The summit is April 10-11.  We couldn't be more excited about the lineup of presenters and topics!  Once again we're breaking it up into two days with one day focusing more on the marketing aspect and the other day focusing more on the technical side.  There should be plenty of great content for everyone on both days.
So check out the list of presenters and topics below.  Chances are if you follow this blog or the higher ed web industry then you probably know most if not all of our presenters.  If you don't, I took the liberty of linking to their own bio pages about themselves.  If you would like to read the full description or get bios on any of our awesome presenters then check out the registration page.  Also we have a 20% special discount code if you want to go ahead and sign up early.  Use the following for the discount code — 20DOTEDUGURU –
Check out the Presenter Lineup & Topics and Sign Up Today!
What is the .eduSummit?
The eduSummit is a two day online webinar style conference.  We do an online conference because it provides lots of advantages including:
Attending a conference online means no travel hassle
Bring the experts live to your desktop
Time spent on the road is better spent instead with family, friends, or in the office
Sessions are developed to dive deeper into the material
Ask questions directly to the speakers
Can't make it the day of the conference? Watch the recordings whenever you want!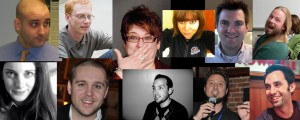 Marketing Track Speakers - Tuesday, April 10, 2012
9AM CT - Don't Be Afraid of Community Engagement by Robin Smail
10AM CT - Re-Imagine Content in Higher Education by Rick Allen
11AM CT - (re)Mix010gy by Michael Fienen
1PM CT - Admissions Fitness by Ashley Hennigan
2PM CT - Why Content Strategy is a Myth by Karlyn Borysenko
3PM CT - Lifetime Engagement Management by Fran Zablocki
Technical Track Sessions - Wednesday, April 11, 2012
9AM CT - The Future Friendly Campus by Dave Molsen
10AM CT - The 10 Minute WordPress Shortcode by Curtiss Grymala
11AM CT - You Don't Need IT To Do That by Kyle James
1PM CT - Inside Web Video Marketing for EDU by Seth Odell
2PM CT - Serve the Needs of Prospective Students by Dave Marshall
3PM CT - Creating API's for Mobile by Nick DeNardis
Check out the Presenter Lineup & Topics and Sign Up Today!
The content of this post is licensed:

---
---