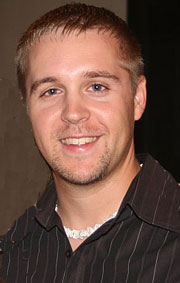 Kyle is currently a Manager of Consulting Services at HubSpot.  Formerly he was the Webmaster at Wofford College a position that he held for two and a half years. You can learn more about how he got his job at hubspot, his background information or jobs that he has had. Kyle graduated Wofford College in 2003 with a degree in Computer Science and worked at the campus for the next five and a half years in multple roles and departments. His professional background is more technical as he worked for three years in Wofford's Information Technology Department in Help Desk Support and IT Specialist where he learned all the technical and troubleshooting aspects of a computer. His web experience stretches back to 1997 and the days of the early web and designing sites using Netscape Composer and Notepad.
Kyle a die-hard baseball fan who is obsessed with the Atlanta Braves and you are just as likely to run across him in a Braves community as you are in a Higher Education arena. His dream job is to follow Frank Wren as General Manager of the Braves and to use Scouting, Sabermetrics, and Sabernomics to continue the Braves dynasty FOR-EVER!
Web Analytics and Social Media are probably his favorite areas of the Internet world. Understanding why people do what they do and how to use that to make the experience better for everyone is a passion. He's definitely a people watcher and Internet metrics allow you to pull hard data about user activity that was previously impossible to fully gather. Looking at the data is interesting, but attempting to make sense of it and pull out worthwhile trends and valuable insights is stimulating.
And now that this page has been rewritten he's tired of talking about himself in the third person.
Certifications/Training
Ektron Certified Administrator
Google Analytics Seminars for Success Completion
Microsoft Certified Professional (MCP)
Network+
A+
Symantec Ghost Certified Training
Recognitions
November 2006 - Interviewed as part of a Case Study for Wofford's Ektron Content Management System.
February 2007 - Wofford.edu won CASE III Award of Excellent in 2006 for Overall Site Design and Implementation.
July 2007 - Interviewed for an article titled Keep Up or Fall Behind in Campus Technology about content management systems.
February 2008 - Wofford.edu won CASE III Special Merit Award in 2007 for Home Page Design and Implementation.
October 2008 - Wofford's virtual tour recognized in top 10 nationally in an article in CASE Currents Magazine.
December 2008 - ReadWriteWeb wrote an article featuring Kyle leaving Wofford for HubSpot
December 2008 - featured in an article on PC World about Top 5 Blackberry Storm Reviews on YouTube
January 2009 - featured in a quote about Web Analytics Tips & Best Practices on Search Engine Guide
March 2009 - guest co-hosted HubSpotTV on episode Marketing March Madness
April 2009 - guest co-hosted HubSpotTV on episode Personal Branding and Birthdays
May 2009 - guest co-hosted HubSpotTV on episode Lose Control of Your Marketing
September 2009 - guest co-hosted HubSpotTV on episode The Southern Edition
April 2010 - participated in multiple HubSpot video shorts with the most successful being episode 1 of FourSquare Cops that was picked up by Mashable and the FourSquare Blog
Presentations
Networks
You can find Kyle on the following networks:
Digg
Delicious
Facebook
Flickr
Foursquare

Last.fm
LinkedIn
MyBlogLog
MySpace
Slideshare

Sphinn
StumbleUpon
Technorati
Twitter