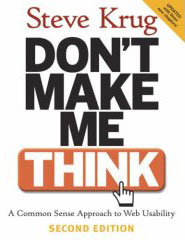 I recently reread Steve Krug's masterpieceDon't Make Me Think: A Common Sense Approach to Web Usability

, that is a must read for anyone who works directly or indirectly on a website. This classic is one of the few books that is so practical and universal that it applies to anyone dealing with the web from a designer, developer, or programmer to a marketer or a content writer. The practical approach of keeping everything as simple and as easy as possible for users is something that is regularly forgotten about as we attempt to make websites more advanced, more interactive and add features. The hard-line truth is if a user can't figure out how to use your site like you intend then it doesn't matter how wonderful your site is.
Don't Make Me Think is an easy read with lots of visuals and quick points that can be scanned by someone in one setting. From cover to cover the second edition just cracks two hundred pages total and is so well laid out you can quickly and easily find the relevant morsel that you desire. Krug follows his own web advice in the layout, design, and writing of this book.
The book is written in a matter of fact and understandable manner. You aren't going to find any big hard to understand concepts or ideas that won't become second nature. The book's subtitle, "A Common Sense Approach to Web Usability" is an accurate sentence to describe exactly what you will find in this book. What is so amazing about web usability is that it is so vital to the success of a website. I firmly believe that usability is also at the heart of sound search engine optimization (SEO). If you design a site following sound usability standards then this is exactly how search engine bots crawl the web. Usability addresses user accessibility and standards like text browsers which is exactly what your site looks like to a bot! Besides it's also the law for certain websites, according to section 508 of the 1988 Amendments to the Rehabilitation Act.
I can't possibly praise this book enough. If you have read this book I'm sure you agree how valuable it is and if not then it's an absolute must that you add this to your collection and apply the teachings to your everyday web work. If there is book for web people that can stand the test of time then this is the book and the teachings will be invaluable.