Google is EVERYWHERE on the web and because I've been thinking about it more and more lately, I think it's finally time to put some of these thoughts in writing and get some input from the community.  I know I'm not the first or the last to have these thoughts, but here they are.  So please keep reading and leave your comments of feedback and suggestions.
Google = Advertising Company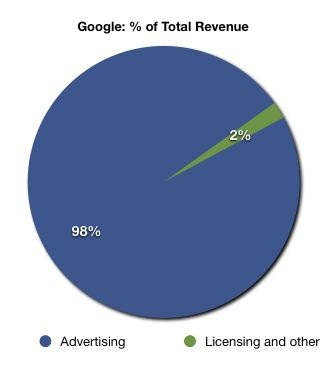 First and foremost Google is an advertising company.  Of course you knew this though… right?  Google does so many things for us and does it for free, but at the end of the day Google is an advertising company so much to the extend that 98% of their revenue comes from selling ads.
Now that's a sobering thought isn't it?  I'm just as bad as anyone else, maybe more so, because when Google comes out with a new service or product I always want to sign up and test it.  Gmail, Feedburner, YouTube, Google Docs, Google Analytics, etc. I don't know how I lived before these services!?  So when the concern comes up with people that when I sign up for additional service Google will have more information about me and doesn't that concern me, my answer has gotten to the point where I simply reply "well they already know everything about me anyway" and that is the end of it.
The reason that Google offers all these services for free is to learn more about users and ultimately provide more targeted ads to users.  It's that simple. When I use Gmail, Google searches and indexes all my emails and has a better picture of the type of email I get and enjoy.  When I watch videos on YouTube, Google knows what sort of videos that I like to watch.  Google Analytics gives me data about traffic to my site and it gives them a more complete picture about my traffic.  Same for Google Webmaster Tools, as the more sites that they know that I control the better picture they have about who runs what on the web.  You see where I'm going with this?
As awesome and helpful as all these services are in the near future it starts to get a little scarier or blissful depending on your outlook on things.  When is too much information a bad thing?  Is there such a thing as too much information?
The Google TriForce
Three recent creations by Google when put together create a triforce so powerful and so completely consuming that it's quite startling that more people haven't taken a step back to see exactly what Google is amassing over the next few years.  This triforce that I refer to is Google's mobile OS Android, Google's offline capabilities in Gears, and Google's web browser Chrome.  When you put the power of these three offerings together you have the ground work of the operating system of tomorrow.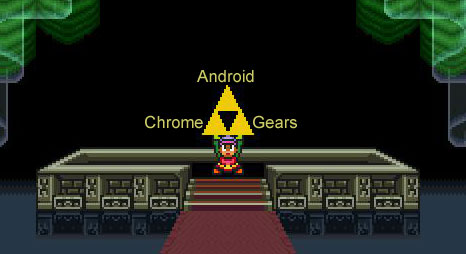 Already in Asia and other parts of the world cell phones are the main way that people surf the web.  A little over a year ago I predictedwould be the year of the mobile phone and it absolutely was.  The iPhone because a status symbol and staple for the tech geek crowd to stay connected.  RIM launched their Bold and Storm to mixed reviews but it was obvious we had a whole new type of phone here.  Google created their own mobile operating system, Android, and the G1 was born.  Although it's hard to declare a long term winner, with Steve Jobs days running Apple most likely numbered despite his expectations, Google being in and doing everything online it's hard to not like Google's chances at coming out on top.  Also their operating system being open source and providing much more flexibility and customizable options you almost want to be pulling for them.  Even Microsoft's new Windows 7 is going more the route of being lightweight and more open.
So we combine a mobile experience with Chrome being absolutely lightning fast running Google applications (for the sake of full disclosure I'm still quite happy with Firefox) and the ability of web applications being continually more immersing and sufficient you have to wonder if the browser isn't the OS of the future?  Remember when thin clients were all the rage and the idea of having data managed in a central location with people being able to access what they needed from "dumb" terminals?  Well with the web and the power of cloud computing it's not that far away until we go round circle.
Finally let's spend a few minutes on Google Gears.  Microsoft Office is great, but let's be honest we don't use 90% of the functionality in the software and everyone is tired of emailing copies of files around and not being able to keep up with which one is the "most recent" or up to date version.  Gears combined with Google Docs, Google Calendar, and Gmail is more than good enough and always available (online and off).  It's a freaking blessing when we can do anything on any computer as long as it has a web browser, a low common denominator of any machine out there.  The portable option is already here today in limited functionality and will only become more of the norm than the exception.  Who needs to spend more and more money on more powerful machines?  Simply store your files in the clouds and use a large data center to run your computations.  It's also better backedup!
So Why Should I Care?
So step back for a second and ask yourself a question.  How important is your privacy and what is considered private anymore? In this Brave New World are you ready to share the actives of who you are for free tools that hope to make your life easier and also help to offer you more targeted ads that promise to be much more relevant than the local car salesmen that we grew up watching in between our Saturday morning cartoons?  Personally I don't think anything I do is important enough to be classified or secret, but that's just me.  I do know that this gigantic advertising company that promises to "not be evil" has much larger ambitions than simply providing the best search results on the web.
In closing I'll just leave you with a list of some of the free tools that Google offers and you decide if they are the kind of things that you have come to depend on daily.
Can you live without Google?
Google Search
GMail
Google Calendar
Google Docs
Google Maps
Google Checkout
Google Webmaster Tools
Google Analytics
Feedburner
YouTube
G1 Phone and Android
Google Connect
Blogger
AdSense
AdWords
Froogle
Google News
Picasa
Google Reader
Google Trends
Google Earth
Google Alerts
GOOG-411
Chrome
Google Talk
Orkut
*Google Camera Picture taken from Radar Online article