I'm sure most of you saw the University Website xkcd comic last week and shook your fists in the air. The front page of a university website is a battleground, no doubt. Dylan Wilbanks posted a good reaction to the comic on his blog and Steve Kolowich covered it extensively in Inside Higher Ed.
If you haven't seen it, take a look: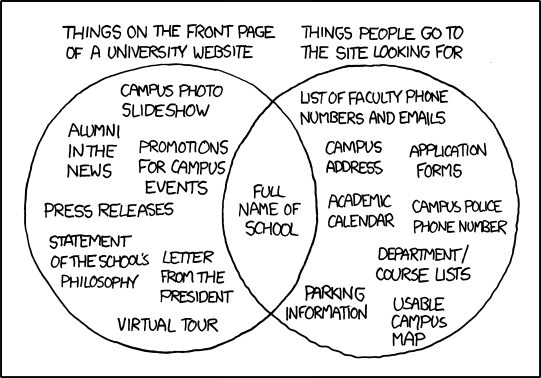 I immediately used the Venn diagram like a bingo sheet on the Emerson College front page, checking off many more items from the "things on the front page of a university website" side. Then I saw this tweet from a current student:
Photo: Hey @emersoncollege, this is absolutely 100% true! (via XKCD) https://tumblr.com/xuuexvkwiWed Aug 04 16:26:31 via Tumblr

John Keane
_jkeane
XCKD comic confirmed. This got me thinking. What if I redesigned Emerson College's front page to mirror xkcd's Venn diagram? Well, here goes.
Before:
After:
I'm not sure if this will fly with the higher-ups at Emerson, but hell, it's worth a shot. Thanks for the inspiration, Craig.