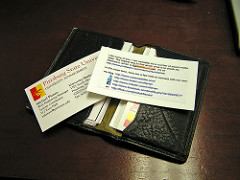 The time has come for another installment of the liveblogger chronicles.  Actually, this is the first time I've done it for .eduGuru, since normally I just did it at my old site.  But that would hardly be as fitting now, would it?  HighEdWeb will be great this year, if only because I did not have to fly for a change, and Springfield is actually closer than driving to Kansas City to fly anywhere.
We are getting started with the orientation session right now, which is nothing out of the ordinary.  Be sure to look for me tonight at the social meet up at the Tower.  I'll give you a fancy card.  Fancy.  Also, don't forget that we'll be meeting up out front of the Union Monday night a shave after 5:00 for sushi at Izume Hatake.  If you want to come separately, try to get there by 5:30.  We'll probably just walk.
Steven also hit me up to do a lightning round on Twitter on Tuesday, which I agreed to on the condition that one or more people will be humiliated.  Brad, I'm looking at you.  So come listen to me make a fool of myself and others.  Also, follow me on Twitter.  I'm lonely.
As always, I'll also be dropping pictures into a Flickr set and sharing them into the HighEdWeb group.  Look for other HighEdWeb info posted under the "heweb08″ tag.
Update 5:29PM ~ Don't forget that you can win a propeller hat in the Technical Propeller Hat track sessions.  Also, sessions are short at 45 minutes, so let people get through their presentations as much as possible before asking questions.
Update 5:37PM ~ Shuttles running continuously in the morning and evening, but not during the day.  Walking is so unfair though… We're geeks, not atheletes!