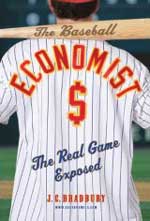 I just finished reading

the other night.  If you're not a baseball fan then you can skip the rest of this post without offending me.  Besides being a book about something that I love, this book was written by a Wofford alum!  All the more reason to reason to read it!  The author J.C. Bradbury runs an interesting blog, Sabernomics, where he writes all sorts of interesting baseball articles. Sometimes they are specifically Atlanta Braves related articles, but they run the gamut from free agent player values to, and most recently, the steroid situation.
This book was absolutely fantastic and one that I would highly recommend to anyone that is either a fan of the game or loves statistics.  Because the subject of the book is baseball, the regression analysis and formulas presented seem to flow naturally.  The chapters are perfectly sized analysis in themselves that each make for an evening sit-down.
With chapters like "The Legendary Power of the On-Deck Hitter", "The Evolution of Baseball Talent", and "Scouts vs. Stat-Head" you know that you have something interesting in your hands.  J.C. does a masterful job of laying statistical data to support his conclusions without losing the reader.
My personal favorite chapter, "The Extinct Left-Handed Catcher," looks at why there is no such thing as a left-handed catcher in baseball.  J.C. looks for performance reasons and ultimately concludes "the benefits of using right-handed catchers are small, maybe the costs will yield some answers."  These costs ultimately show their solution in the very simple revelation: "The biggest reason there is no left-handed catchers is natural selection.  Catchers need good throwing arms.  If you have a kid on your baseball team who is left-handed and has a strong arm, what are you going to do with him?"  Any baseball person can easily answer this, he's going to pitch!
The entire book was filled with revelations similar to this! Every chapter brought statistical analysis into the equation to definitively prove relationships in baseball.  Is any of this going to make me a better baseball player, coach, or fan?  Probably not, but for anyone that has a passion for the sport I'm sure they will feverously consume this book with the same passion.  It's obvious that J.C. also shares that passion and it carries through this work.