After commenting on colleague's post reflecting on why he will continue to blog, I realized that both his blog and my comment were worth sharing here.
If you've been in the situation where you've started a blog but felt you couldn't get the conversation going, or if you are trying to get people in your institution to continue blogging rather than get discouraged before establishing it, I have the same encouragement and advice I posted as a comment on "It's Been Awhile…"
Here are three reasons to continue blogging even if you don't get the number of comments you expect: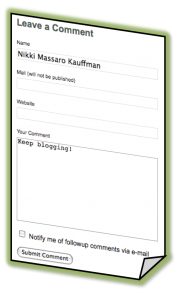 Some of the best advice on blogging I've ever heard is "Blog for yourself". Even if you have no other followers, a blog serves as a chance for you to commit your thoughts to writing, to reflect on your work, and build your own personal philosophy of what you do. From there, you may build a strong, interesting and unique voice that may interest others…
Some people are listeners and not commenters. I comment more than most, but well over half of the posts I read and enjoy, I never comment on because rather than post a bunch of "Hey, me too. I agree," posts, I wait until I find one where I can add more to the conversation. But, I may file a good post in my memory and reference it later, in another post, comment, tweet, or even casual conversation. That brings me to my next point…
Even if you post immediately and you are in people's feeds (as you are mine), they may not respond immediately. We can be shameless self-promoters (like me) and tweet out new posts, add our feeds to Ning and Facebook, and the like, but the Internet is still a time-shifted place. People may not find your post until word-of-mouth spreads, or until a topic related to your post leads them to you.  What you write today may not be found until next week, next month, next year, or even several years from now.
Keep blogging, encourage others to do the same, and share your blog.  If you have have blog you'd like to share with me, drop me a line!