The following is a guest post by Web ManagerMcCready. Web Manageris the web services manager at a college in Canada. He has been involved web development for 10 years with a focus on education and the Web for the last 3 years.  He posts regularly to his blog, www.mikemccready.ca, where the topics focus on higher education, marketing and the social web.  Web Managercan be contacted at blog@mikemccready.ca or follow him on Twitter.
I'd like to thank the authors of .eduGuru for allowing to submit this guest post.  Feel free to send questions and/or comments my way and I will respond to them all.
In any environment where the nature of the work isn't fully understood, misconceptions are formed. These misconceptions lead to poor decisions.  This is usually the case with media development (web, social, video, etc.) in higher education.  We've all heard of the project triangle or some variation of that where you have qualityprice, and time - each represented in a corner.  In this metaphor, you can only choose two of the possible three options.  You can have quality and a quick turnaround, but it's going to cost.  Or you can have cheap and quick at the sacrifice of quality.  Or you can have quality and low cost, but it's going to take some time.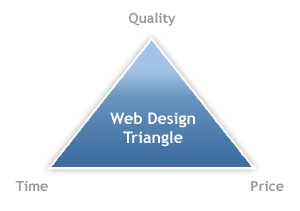 I think in a lot cases, this triangle can be very beneficial in explaining to senior leadership at your school that web development isn't something that can be cranked out quickly without sacrificing quality or it costing a lot.
That being said, I think the project triangle is a crutch! I am proposing that none of the points of the triangle really need to be sacrificed.  The secret… planning and education.  Like I mentioned earlier, when those at your school don't understand the work involved in developing a microsite for a new campaign or other web projects, they may leave it to the last minute and expect it to roll out.  If you refer back to the triangle, what ends up happening is quality is sacrificed for for quickness and low cost.
By educating those in the various areas of your school of the development time for the Web and the importance of planning for the Web from the beginning, there needs be no sacrifice.
I'll be writing more in the near future about planning for web development projects.
Photo Credit: Pyramid by Pixieslayer