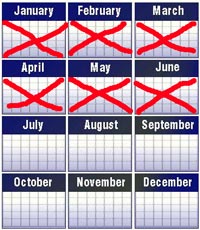 .eduGuru was started as a New Year's resolution and unlike most New Year's resolutions it is actually still going and quite strongly. I'm almost embarrassed to point back to that inaugural postLook ma I'm a Blogger, where I attempted to lay a framework for this blog, but it is also a testament to how far I've come as a writer, thinker, marketer, and the one I'm most proud of a teacher.
Let me be very up front and say that writing a good blog is a very time consuming commitment. For me it's not been so much coming up with ideas or writing have been the time sucker it's the reading and research that goes into blogging. In fact I've got lots of unfinished blog post idea just waiting to be finalized and published.  Hopefully you haven't read something on this blog that hadn't been thoroughly researched and thought through? I always try and do my homework and part of that is staying connected to what else is out there on the web. Blogging, for me, has meant adding 15+ hours a week to my plate in reading. I'll admit that for things I care about I'm a perfectionist and hopefully my readers benefit from this.
In my initial post I mentioned five key reasons for me starting a blog.  It's probably a good time to revisit them and see how I'm coming along on them.
My Five Key Reasons to Blog
Place to write down thoughts – I guess this was one of my original goals and I definitely ran with it in posts like my Blog Manifesto and many others.  In one way or another I guess every post is me writing down my thoughts.
Build a reputation as a credible and knowledgeable individual – well this is really up to the each individual to decide, but being invited into BlogHighEd and the hundreds of RSS subscribers has been beyond my wildest dreams.
A place to connect with others in Higher Education Web – WOW! The network of individuals that I have meet and friends that I have made in the Higher Education Web world has been an absolutely amazing! I honestly can't say it enough how exciting I am about going to eduWEB in less than two weeks and meeting so many of you that I chat with weekly or daily through forumstwitter, blog comments and connect with through LinkedIn. You people absolutely ROCK! Thank you for letting me in.
Resume builder and Financial Compensation – In many ways once you have established yourself as a blogger it becomes your resume. I'm not sure if I've gotten to that point yet, but you can bet the Ranch I've got the URL listed on my paper resume!  As far as financial compensation I'm doing some really great freelancing work now that would have never been available to me before my experience with blogging.  Although I do have Google Ads on the right hand side of this blog, I'm ready to remove them any day now because they have only brought in about $10 over the six months and they just aren't worth the noise to me.
Become an expert in my niche – Starting out I thought Higher Education Web WAS a niche, but since then I've specialized even further. As I've gotten more and more excited about internet marketing and less about coding and designing my niche has changed. I've actually kind of picked up some buzz as a Web Analytics in Higher Education Thought Leader as I'll be presenting on this subject at multiple engagements through the end of the year, more to come on the specifics of these. Web Analytics, SEO, and Social Media all tie so much together that if anything these have become my areas of expertise I guess. How they are beneficial to Higher Education has been a real challenge and one that there doesn't seem to be any clear representation for in our industry. I was just telling Head of Marketing the other day how I feel like such a rookie in Web Analytics, but how my work has kind of put me on the cutting edge of it for Higher Education.
So those were my goals and I feel really good about how far I've come in the last six months.  So Heidi this post was hopefully also the long awaited response to your meme that I told you I would leave.
Everyone Should Blog
To anyone out there who is reading this and thinking I want be a blogger then I strongly encourage you to give it a shot! Drop me a line and I'll check it out and follow you.  I encourage ANYONE that feels like they are doing 100% work and no recognition well why not try doing 80/20 where the 20% is promoting your own work?  You might think you don't have time to spend researching and writing, but honestly can you afford not too?  That's kind of how I've approached this as I know there are people at Wofford who read my blog and hopefully it's made them along with the rest of my readers more aware about what Wofford is doing to Market Online.
I simply ask how can you expect others to promote and praise your work if they don't know about it and if you don't share it with them in the first place? Is it an ego thing, well maybe, but it's also opening up communication, networking, and sharing with the greater community.  My growing network of friends and colleagues is invaluable and I look forward to growing and sharing new experiences with you as we go along!
So start your own blog, become an expert in your own niche! I mean if I have been able to accomplish this level of success in six months, just imagine what you could accomplish?!  I'll admit it's been a TON of long hours and hard work, but my knowledge and network has gained exponentially.  Also I'm sure there are those of you reading this who know much more than I do and I look forward to reading your work!
So finally in carrying on Heidi's Meme I want to call out a few of my favorite Higher Ed blogger's who I feel comfortable enough to ask to sharehow blogging has Impacted their work.  Let's go:
Brad J Ward
Head of Marketing
Eric Stoller
Web ManagerRichwalsky
Karine Joly
FJ Gaylor
Andrew Careaga
Dennis Miller
Matt Herzberger - Care to come out of blog retirement and post one for us?