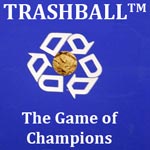 The following is a guest post by Craig Sudduth, Senior Student Web Content Editor and Student Writer.  Summer is a time when college web professionals are able and have time to focus on projects while a good portion of campus is off on summer vacation.  Despite this productive streak we still need a little entertainment from time to time to keep sane.  Also a little fun fosters creativity.  This is the first post in the "keeping sanity series" during the summer months.

The Real History of Trashball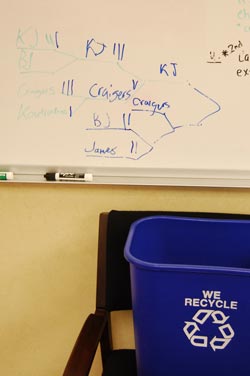 Trashball Bracket and Official Bin
Offices all over campus have nice little blue recycling bins. By participating in Trashball™ throwing away paper has never been so much fun!  Instead of merely throwing away paper, Trashball™ offers quite an enjoyable distraction by forcing participants to "shoot" the balled up paper ball into the recycle bin.  Even with a miss the fun continues because you have to get up and try again.
Over time this simple pastime has gained a life of its own as we now compete to see who can shoot the most trashballs into the recycle bins. Missing and hitting the trashcan is unacceptable and results in negative karma points.
At some point, July 7th around 3:30PM if you want to get really exact, the idea was thrown out to turn Trashball™ into a daily match of chivalry.  Smack talk ensued, brackets were drawn up, and organized competition began to flourish, capturing more attention among office goers than even the recent Tiger Woods/Rocco Mediate sudden death matchup at the U.S. Open or the Federer/Nadal matchup at Wimbledon. Julywill certainly go down in history as the month that saw the First Annual Wofford.edu Trashball Championship Series™. With the competition already a week underway, we have seen office viewership skyrocket to unprecedented levels. Based on current data, there is talk in certain circles that viewership for the final round may pass 2007's Advance Splat Book™ as the most watched event in the history of OCM.
Official Rules of Trashball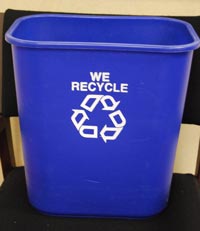 Official Trashball Bin
Trashball is a fierce shooting competition between enemy combatants.  Participants are forbidden from crossing an established line of death. Each time the line is crossed one point is deducted from that participant's score. Each shooter rotates taking a shot for the recycle bin. For our purposes each shooter is given 14 regulation trashballs made of the official brown recycle paper. On the first day of any tournament the two combatants play a grueling game of rock, paper, scissors to determine home and away status. As is often the case, the victor chooses to be home or away. After this first game the loser of the previous game goes first. In the event of a tie, participants go to sudden death. In sudden death each participant is given three randomly selected trashballs. The recycle bin is emptied and the combatants begin the three shot overtime. Overtime continues until winner emerges. The recycle bin is emptied after every round of overtime. A series is made up of five games, one for each day of the week DUH. The first participant to achieve three victories advances.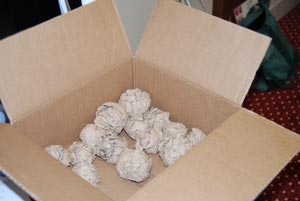 Official Trashballs in Commemorative Box
Unlike most sports, unsportsmanlike conduct is encouraged and Smack talking is required. However, all rules are strictly enforced and any participant caught tampering or interfering with an opponent's shooting or trashballs forfeits that day's match and is forced to stand in the corner as other members of the office pelt the offender with objects of their choosing.
Starting Your Own Trashball™ League
Starting your own Trashball™ league is simple and offers a chance for you and your office mates to cling to those last shards of sanity that are often hanging by a thread by the time 3 p.m. rolls around. To begin your own Trashball™ league, you must first seek permission from the creators to use the trademarked name Trashball™. Once permission is granted you gather particpants who are willing to devote the enormous amount of energy and mental concentration necessary to become a Trashball Master™ (the title bestowed on the winner of the tournament).  All tournaments will be known as "The Wofford.edu Trashball Championship Series™ of  _______________ (insert the name of your school, club, or company)". Good luck with your Trashball™ dreams.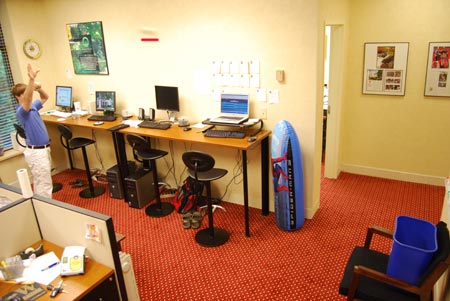 Craig Shooting - Ball Underlined in Red
Note: Trashball™, Trashball Master™, and The Wofford.edu Trashball Championship Series™ are registered trademarks of Kyle, Craig, Brian, and James and may not be used without express permission of one of the four creators of Trashball™.