I know that I've recently covered On-Page SEO, but I'm bringing back two of the specific elements.  In my job at HubSpot one of the things that I teach people is how to optimize their site for search engines.  (Just to be clear, no I'm not an SEO consultant because that is only one small part of the equation)  In going over that I think it is just so vital to continually stress that search engine optimization is simply about usability and accessibility.  If you have read Steve Krug's book "Don't Make Me Think" then it you know exactly what I'm talking about when it comes to usability and accessibility.  If you haven't read the book then you have some required reading to do.
So when someone performs a search in Google or any of the other search engines, a nice list of results is returned.  In these results we see two things: the Page Title and a short description.  Now as I've explained before, most of the time the description is pulled from the meta description of the page.  When it isn't pulled from the meta description it is pulled from content on the page, and this tends to happen when that content includes keywords that were in your search and not in the meta description.
So go back and look at any webpage and chances are you don't pay a lot of attention to the page title, do you?  Of course not. It is way at the top of the page and not actually included in the visual content on that page.  It is the same for the meta data as you would have to actually go view the source code to see this.  Even then if you aren't familiar with HTML code it might take a little while to actually figure out where to look.
So from a design or content specific purpose these two elements of your webpage have absolutely no functionality at all.  This doesn't mean that they aren't extremely crucial though.  Hopefully you are already familiar with calls to action and why you should have them strategically placed on your website.  Calls to actions drive individuals to pages that you want them to see or conversion pages where you can gather information or payment from visitors.  Think of your Page Title and Meta Description this way…they are your calls to action in search results that make your page stand out from the other result, saying "This is what this page is about and why you want to click on me and visit our site."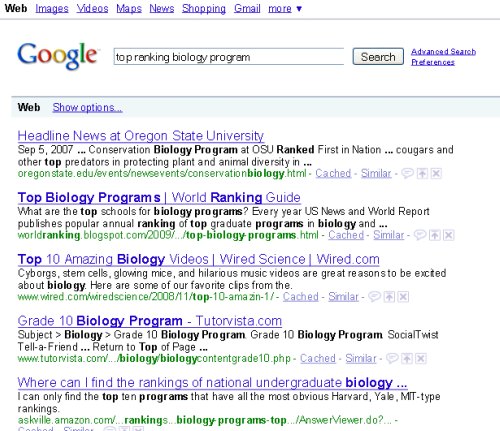 To give a higher education example, let's say that our school had an excellent biology program and we wanted to tell everyone that.  So someone might go searching for "top ranking biology program."  Take a look at these Google results and decide for yourself what results you find most compelling.  Also notice the interesting results that Yahoo and Microsoft's new Bing return on the same search.  So you tell me.  If you were an interested top biology prospective student looking for a good school which results would "call" you?
Photo: Real life call to actions (1) by hiddedevries