In the New York Times bestselling book Trust Agents, Chris Brogan and Julien Smith talk about the six principles of being a Trust Agent:
Make your own game
One of us
The Archimedes Effect
Agent Zero
Human Artist
Build an Army
These principles can be extended and used in the higher education space, specifically for community engagement, with prospective students, current students, and alumni, to name a few. (Notice, I didn't use the term "community management." Online communities don't want to be managed. They manage themselves. If you follow principle #2, "One of Us," you'll get why. But, I digress.) Back to the principles and how this fits in with what you may be doing for your college/university, or what you may want to implement.
1. Make your own game: Facing some odds at your institution? Having a hard time convincing others around you that social media is worth the investment of human and financial resources. What did you do to break free of these fears and concerns? What new efforts have you implemented? When we created Café New Paltz last year, I heard from many peers "been there, done that - back to Facebook." We implemented this online community for accepted students in a pretty unique way, I think — and the feedback we received from the community members was fantastic. Many comments included sentiments such as, "no other college I applied to is doing anything like this - this is awesome!" Don't just assume others have done it. Do it your way. Make your own game.
2. One of us: In Café New Paltz, we had two students serve as the Baristas, which was far more effective than having a staff member from my department or admissions there to engage these students. The Baristas were "one of them" - not an administrator trying to remember back to their college search days to relate. Have you implemented something like this in any of your communities?
3. The Archimedes Effect: How you leverage knowledge, people, technology and time. Collaboration across units is imperative to effective social media efforts. (See also, #6 below.) I have folks from Undergraduate Admissions, the Graduate School, the Welcome Center, Public Affairs, Student Development, and more helping us manage our Facebook Fan Page. We make use of social media to upload once - and reuse/syndicate wherever possible. For example - upload photos to flickr, embed them in pages on your site and blog, use involver to include on your Facebook Fan pages.
4. Agent Zero: How are you building relationships before transactions take place? Transactions may include applying, paying pre-enrollment deposits, asking for donations, etc.
5. Human Artist: How have you built relationships in your online communities? Have you dealt with any issues where you had to learn step away from a situation, or had to decide whether to remove questionable content? How did you handle this? We've been challenged with a few questionable posts on our Facebook Fan Page in recent months, but in most cases the community has jumped in and "self-corrected," and I think it's in large part because of the relationships and community we've built there.
6. Build an Army: Just as Chris and Julien say, "you can't do it all alone." How are you collaborating with others at your university? Are you working with others outside of your unit?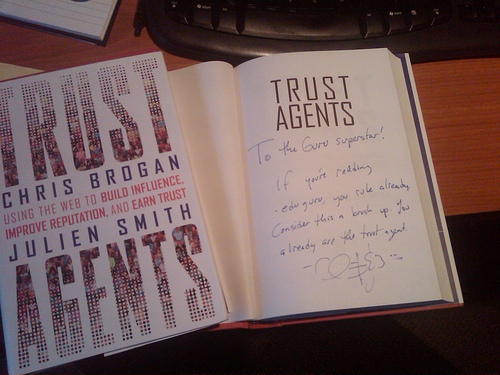 Now it's your turn. Chris was kind enough to sign a copy of his book for us to give to one of our faithful readers.
How can you win this autographed copy of Trust Agents?
Option A: Show us your inner guru. Submit a blog post about a project you're working on that uses two or more of these principles (bonus points if you use all six!).
Option B: Praise someone else. Tell us about a project you think is a best practice that someone else is doing, again that uses two or more of these principles outlined in the book.
How to submit:
Option A: If you have your own site you want to post this to, just e-mail us the URL (staff at doteduguru dot com). Link back to us for inclusion in this contest.
Option B: If you don't have have your blog, submit it to us for consideration as a guest post on doteduguru.com (staff at doteduguru dot com).
We'll tweet about your submissions and share them with our readers.
Who gets the book?
Here's where it gets really fun. Best practices articles tend to generate great conversations in the comments and on Twitter. The top two that receive the most buzz will be shared with Chris Brogan, who will work with the six of us on staff at .eduGuru to select a post/project that most closely builds on principles in the book. Chris will write a guest blog post summarizing his input on the top two posts and ultimately chose who gets the book. A huge thanks to Chris for working with this on his project.
It's your turn! Enter by 5 p.m. ET Thursday, October 1.