Borders, Borders, Borders. :::sigh:::
You know that normally I'm a fan of your email. I always talk about you understanding creating value for the user during my Five Commandments of Email Marketing presentation. But yesterday, you let me down. I woke up bright and early to get an email from you with the following subject line: A New Release You'll Love by Charlaine Harris.
Yes, please! There are few things I enjoy more than curling up and reading about the latest adventures of Sookie Stackhouse and her page-turning, make me tremble with anticipation romance with Eric (and all that other stuff about fairies and werewolves and shapeshifters and Vampire Bill). I also remembered that she was coming out with a new book in the series soon and was excited to get my pre-order on.
But here's what greeted me when I opened the message:
There's just one problem…I already OWN Dead and Gone.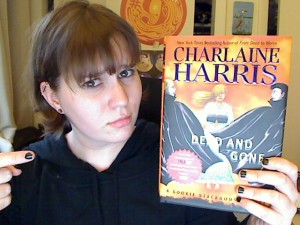 And what's worse, Borders, is that you KNEW I already owned it! I bought it months ago at my local Borders using my rewards card and a coupon that you had previously sent me (I remember because I got the hardcover version for like $7 and was very excited by that!).
Now I know what you meant - you wanted me to get the new paperback version coming out…but why would I need that if I've already dog eared the hardcover? You knew I already bought this version from you and, instead of sending me an email about the upcoming new book (which you ), you wasted my time with this. Borders, do you think my time isn't that valuable? Look at me in that picture! Do I strike you as someone who gets enough sleep? For shame Borders! For shame!
The morale of this story - use the information you have on your users to send them really timely, relevant messages. Had Borders asked me to pre-order the next volume in the series, or sign up for an alert to remind me that it was out so I could go to the store and buy it, yes, no problem. I'm pulling out my credit card. But they wasted an opportunity.
Colleges have all sorts of useful information on their inquiries and applicants, their current students and their alumni. Use it to make sure that your email campaigns are as valuable to your audience as possible. Whenever you send out a message, really take the extra time to filter out all of the people who it does not apply to. Yes, I know…it's an extra step and usually is easier said then done. But it's worth it. If you don't take the extra step, and send out information that is not relevant to your users, you are telling them that you do not value their time or attention. Why should they value what you have to say in return? Plus, as a bonus, if you consistently send out valuable, relevant information, they will be more likely to open and respond to your messages in the long run. It's a win-win situation.
As for you Borders…I'm sure we'll get over this little stumbling block…especially if you give me a nice big discount on the next Charlaine Harris book!