The following is a guest post by Kathleen VanderVelde, Communications Manager at Davenport University.  Kathleen blogs at davenblogger and has a personal blogThings I've Seen, that she has been writing since the beginning of blogging, ok maybe not quite butis a long time in blogging time.  You can connect with her through Twitter or LinkedIn.  This is the eighth post in the .eduGuru Blogger(s) Search Contest.
So Chris Brogan is a pretty well known social media guru who had a gig recently as keynote speaker at  Stamats Integrated Marketing Conference: Technology, Collaboration, Results. I am a some-time blogger, a regular blog reader and I was an incidental conference attendee. So how did I end up at dinner with Chris and the conference "cool kids," and more important, why should you care? It's all about creating conversations and building relationships through social media. Here's the story:
A few weeks before the conference, Stamats created a social network for conference attendees using the build-your-own network tool, Ning.   Discussions started right away among the attendees, including presenter Brad J. Ward's  "Twitter Rollcall."  Chris Brogan, who I doubt knew any of the presenters or attendees before the conference, started following those of us who listed our IDs.
When he arrived in Tampa, we were already in session. The Twitter users, who included a good share of the presenters and a handful of attendees, were doing what we do - blogging, shooting video, snapping photos, posting comments on Twitter (aggregated at TwitterSearch with the tag #stamats08 ). Pretty soon we saw this:

Yep - Chris was "crowdsourcing" his way to the conference venue, and he got there easily with the help of the network. Once there he spent two days hanging out with, not the conference sponsors who'd invited him, but with people he'd conversed with online ahead of the conference. And on that last evening a group of us - all "old friends" by now, including Chris - rehashed the conference and traded stories over some nondescript Southwestern food and plenty of beer.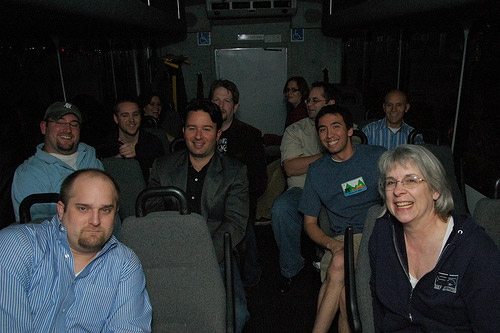 The bus to dinner
Which is all a long-winded way of pointing out what should be obvious, but isn't always, when we're thinking about how to entice prospects to our institutions: People are going to spend their time, money and personal capital with those they know and trust - people they've talked with and built relationships with. People they care about and who care about them. Social media tools offer us ways to initiate and establish those relationships.
When I am reading this blog, I feel like most in the audience already have solid social media efforts in place. But I also know that there are others out there - my own school included - who are still struggling to get started. What to do? Take one step at a time, as they say. (We started with sharing tools on our website.)
Listen to what they're saying out there about you. And join the conversation.
Oh - and keep reading and participating here. There's a whole network here to support you.