A few weeks ago I ran an extensive test of a number of free analytic tracking packages.  Hopefully nobody noticed the added load time from the extra scripts being run?  It's taken me a few weeks to find the time to write up the results but I think they provide some very valuable insight.  I think it should be stated that coming into the test I was very commited to Google Analytics.
I installed the code and tested the following services for 20 days. Some of these services were only for free trials.  The write-ups below provide a little more information about each service and some conclusions I came to during the testing.
The Free Services
BlogTracker -

I'm actually quite impressed by the amount of data provided.  Would like to see some information about unique visitors, bounce rate, and time on site, but otherwise this is a fairly comprehensive site analytic package for a blog.  There is also a good bit of customizable options for viewing data on your own time rage and different graphing options.  There are also exporting options.  BlogTracker also tells you your ranking on the IceRocket network which is an interesting guage.  The service even provides some live data of your most recent visitors although this is truly only useful if you are constantly in the system watching.
Clicky -

This is a pretty cool tracking service.  It does allow real time tracking which is a VERY nice feature.  Also Clicky can pull in your Feedburner data which is an added perk and something that none of the other services I tested provide.  It should be noted that Performancing metrics seems to be an exact or very close exact copy of Clicky.  I haven't test it so I'm not exactly sure.  To give you an example I stumbled a post on my site and then set back and watched the hits roll through the Clicky AJAX web interface without needing to refresh.  It was pretty mind-blowing.  Clicky's biggest downfall is in it's inability to let you view data in customizable ways.  The ranges are limited to week, month or year ranges, but if you wanted to look at data two weeks ago and just that week you couldn't do that.  It is one of the prettiest looking services.  The Clicky code also puts a graphic on your page which was kind of a turnoff.
CrazyEgg - This site does let you start off with a free account, but limits what you can do.  Crazy Egg specializes in Heat-mapping.  This service is great if you are looking to optimize your site and wanting to gather data over a month period.  The free service is for a month and allows you to track up to 5,000 visitors.  For a small site looking to optimize a site this is perfect.  This service is also valuable to run a limited study of a site or page.  (See Crazy Egg Snapshot)
Enquisite - This tool allows you to track and monitor search trends.  It is a nice supplement to Google Analytics.  The data that is provided is a little confusing and as it builds over time can get overwhelming.  Also the interface looks a little dated, which although for hard core number crunching doesn't matter, I find it sometimes hard to figure out what I'm looking for.  Because the filters aren't fully customizable it can take a little extra work to find exactly what you are looking for.  This is definitely an advanced tool only for the most serious of search engine marketers.
UPDATE:  Since I ran the study Enquisite has updated their tools to a much more graphically appealing interface.
Google Analytics - 

This is a must install for anyone serious about tracking web traffic.  Google Analytics provided the most complete assortment of data of any of the services.  The biggest noticeable absences are no live tracking data (data is compiled on regularly intervals and is best to look at daily data) and the absence of RSS feed data.  Considering Google now owns Feedburner this only seems like a natural addition and something that one would think would have be implemented in the future.  This truly is an enterprise level analtyics package with a can't miss price point.
MyBlogLog -
Besides the community aspect that MyBlogLog allows you to build this site also allows you to track your site stats.  The free statistical data provided only provides data up to a week.  The upgrade service is only $3/month or $25/year.  Even then it doesn't look like there are many reports that you can run with the system.  I was only able to see a referrer, pageviews, out clicks, and daily summary reports of the above.  This data is useful for quick data summaries about what happened on your site in the last week, but that is really it.  A nice feature is by having their widget installed, see sidebar for mine, is all you need to install for the tracking code.  What is really neat about this is you can see specific members of the community who visit your site and connect with them.  Because these individuals are almost always other blog owners it's interesting to visit their blogs and see what type of blog writers are visiting your site.  This feature definitely provides you with more individual specific data than any other service.
SiteMeter -
SiteMeter does send you nice weekly reports, but I have to admit the reports are very limiting.  The intro screen has basic information, but it is difficult, if not impossible to find specific data that you might be interest.  Search result data is not provided nor is compiled data about specific page hits.  Also you are limited in some of the reports that you can run to weekly, monthly, or yearly.  The Site Meter code also puts a graphic on your page.
Statcounter - 

The free version has a log limit of 500 entries as you can image this service quickly becomes useless.  The only data that is provided in bigger bulk is Hits, and some visitor data.  Otherwise everything else is a very small sample and not useful.  This service does look like it could have potential if you are willing to pay as it offers exporting options and multiple graphic views.  There is also customizable data ranges available.  Unfortunately it is impossible to say how useful these tools are without purchasing a plan.  Pay plans work by the size of your log.  If I was able to fill up a relatively small site log in less than three weeks and a log quota of 100,000 (the largest listed) runs $499/year this could quickly be an expensive service.
Quantcast -

This is a great resource for gathering analytical data about a site.  What makes it unique is the demographic data that it pulls.  I have no idea how accurate this information is, but it is really interesting.  Although this data won't be very useful for you to drill down, it does provide some trend data and should be used for such.  The interesting thing about Quantcast is they gather data about sites whether you have the script installed or not.  I don't know how much more accurate your installing the script helps?
WebSTAT -

Although they offer plans that cost money they do offer a Basic edition that is free up to 20,000 visits per month.  There are many customizable option that does return many reports.  A few things that I'm really surprised is missing is referring sites, time on site, and bounce rate.  Knowing where your traffic comes from and how long they stay are two important metrics that I'm surprised are missing.  There are nice graphing and customizing options in the system.  I also like the ability to export your data.  The WebSTAT code puts a graphic on your page.
WordPress.com Stats - For some reason this data never seemed to display for me?  I don't really know what the deal was?
The Data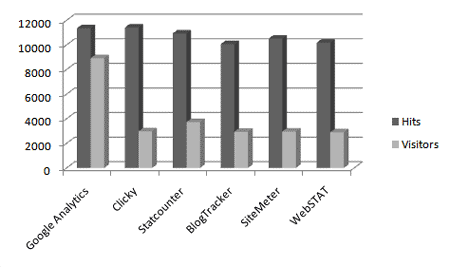 The above graph shows a comparison of two of the stats that seem to be the only standard provided across the services.  As you can see the data over the twenty days shows pretty similar data of Hits across the experiment and only Google Analytics varied greatly when looking at visitors.  What this data tells me is that it doesn't look like it really matters which service you use as they all provide pretty similar data.  What really makes the difference is deciding what additional measurements besides hits and visitors is important to you.  It is because of these other reports and measurements that Google Analytics really stands out above the rest despite.  I am a little confused by the difference in Google Analytics visitors?  If  anyone has any ideas why absolute visitors in Google Analytics is so much higher I'd love to hear them?
Conclusion
Besides the fact I'm a converted Google Analytics user, the results definitely supported my belief.  After everything I kept Google AnalyticsBlogTrackerQuantcast and the MyBlogLog widget.  Clicky was one that I seriously considered keeping but the added graphic wasn't something that I wanted to keep on my page and I felt the BlogTracker provided the live tracking service that had me seriously considering keeping Clicky.
Extra Note: Before removing the scripts I ran WebSiteOptimization.com's Web Page Analyzer just to see how much additional load all these scripts were putting on my page loads.  This additional load accounted for about 16% or 52,367 bytes (roughly 51KB).  I would highly recommend Web Page Analyzer as a tool to see how long it takes your pages to load and to better understand how to optimize pages on your site to load quicker.  If you are really interested here are pdf's of the WebSiteOptimization.com result pages with the Analytic Code and without the Analytic Code.
Additional Resources:
Top 5 Web Analytics Apps that are better than Google Analytics - I just read this today and although I don't agree with the author I think it's important to present another view.
20 Analytics Tools For Blogs - I discovered many of the tools I used for this study off this post so it's only fair to give some credit.
Free Website Analytics Tracking Resources - This is a page I've put together with the resources mentioned in this post along with some others that provide industry data and can be used to analyze your competition.