I have an Alexa widget in my Netvibes account that pulls Wofford traffic data along with some of our peer and benchmarking institutions.  One of those trackers comparisons is the Cinderella story of Davidson.  Davidson is only a state away and roughly the same size as Wofford (1,600 to 1,350 college kids) and both are in the Southern Conference and liberal arts institutions.  I knew how good their basketball team was as they dominated us three times this season, the last being a 49-82 drumming in the SoCon tournament.  Knowing that, I predicted them making the sweet sixteen, but that was as far as I saw them rolling.
Brad over at SquaredPeg reported not to long ago about Butler's traffic increase from their success in the tournament, March Madness: Basketball Scores Online Traffic.  So over the last few weeks I've noticed that Davidson's Alexa traffic was beginning to take off and I wondered how this affected other teams who made it to the Elite Eight and beyond.  Pulling some enrollment data from wikipedia all of the Elite Eight schools have 15,000+ undergraduate with the exception of Davidson (1,600) and Xavier (4,000).  So poor Davidson is a tenth, or less, of the size of the schools who made it to the Final Four.  Texas is the largest weighing in at 36,000!
Every school has a separate Athletics website, but I'm analysing the schools main website and I'll tell you why.  What I'm interest in looking at is how making this far in the tournament builds brand recognition around a school as a whole unrelated to the athletic program.  So let's look at some of the data charts.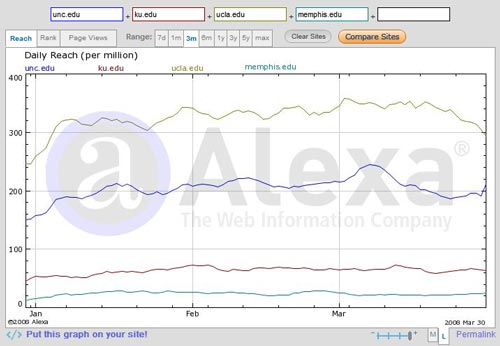 This chart shows the Final Four Teams.  Surprising UNC is the only one to show a recent uptick.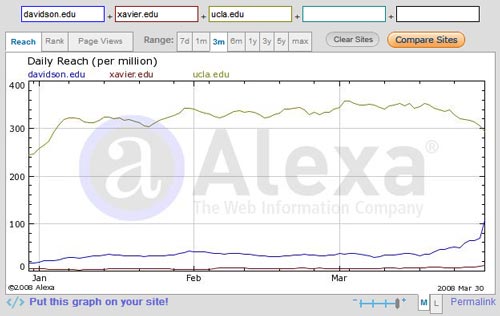 On this chart we can see Davidson, Xavier, and UCLA.  I'm throwing in UCLA to kind of show how the scale of the next chart compares.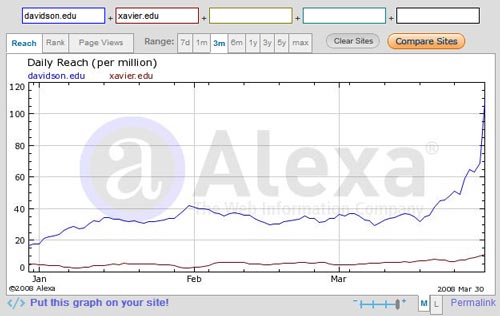 This chart shows the small players Davidson and Xavier.  See how changing the scale really puts Davidson on a spike!
That was fun!  So what do we see.  Davidson is much more of a mystery to people.  They haven't really heard about this small liberal arts school in North Carolina and want to find out more, hence the increased traffic to their website.  Pretty much every other institution stays flat because they play on the large stage more often and fans know about their brand. 
Why do I care, well because this can have a long term effect on enrollment and athletic recruiting.  Let me tell you a quick story.  InWofford made it all the way to the semifinal game of the now called Football Championship Subdivision playoffs.  We lost to the eventual champion Delaware.  Exactly four years later we came back with another loaded team and were able to upset Montana in the first round before losing to Richmond.  I have no proof, but it would stand to reason that somehow the success ofhelped in recruiting that off-season to produce another high quality class of football players four years later.
With the turnover in Basketball much quicker than football, players routinely start their freshman year in basketball, and Stephen Curry committed to returning for a Junior year you have to like Davidson's chances moving forward and the schools ability to recruit athletes and hopefully other students.  Also do people remember when schools like Gonzaga's or George Mason's were simply Cinderella's?
So anyways I just think it's neat to look at a spike like Davidson is enjoying now and think about what it means and what it could mean in the future to the institution.  Note: I pulled all this data and the screenshots last night and it looks like even today shows Davidson begin the fall back to earth in the Alexa rankings.
There is a whole lot more digging that could be done looking into this affect, but sadly I've used up all the time I have.  You could easily dig around comparing traffic to the main schools site compared to their athletic site.  Or wait until Quantcast and Compete come out with their monthly data and dig through some of their results.  If you do dig around some and find any interesting finds feel free to post a comment and share with the rest of us.
Final Four Homepages
Before I quit I also took a look at the final four schools websites.  I didn't really dig down deep, but if I were to choose a tournament winner based on their homepage design then I'm giving my endorsement to Kansas.  Nice clean site template with calls to action, a rotation feature, and lots of solid navigation.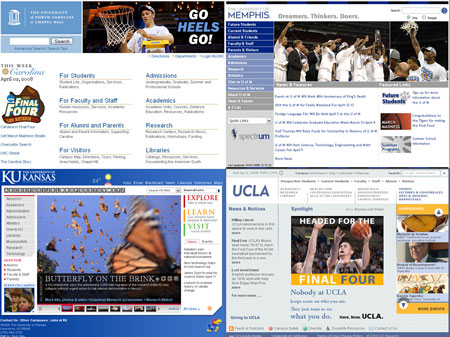 Update: I just read an article in Information Week about the Final Four and had to share it.  Final Four: Live Online For The First Time.  There is some interesting information in the article about streaming sporting events online and the revenue streams developing out of it.  It is the future.