May was a month of celebration and closure. Graduation came and went and many students are moving on to bigger and better things now. Unfortunately this doesn't necessarily translate well for Website Traffic. As you would imagine traffic across the sites were down, but there are some positive takeaways if you look at the trends.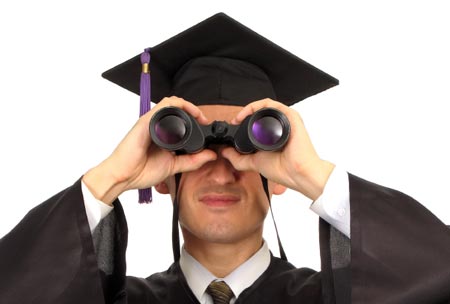 Graduating Students looking to the future and hopefully you are looking to the future with your web analytics!
This is the first month's worth of data that the new Alexa ranking system affects our analysis. This new system I feel is MUCH more accurate and saw Wofford drop inside the top 100,000 where we should be able to stay. The only web analytic metric which was up is the off-campus traffic. Off-campus visits increased 4.4% although off-campus pageviews and time on site were both down. Initially this could be deceiving, but  we should expect off-campus traffic to be greater because the students that regularly log time on the site are at home and probably account for the difference.
April was a record month for our Email Marketing campaign so it was only natural to take a step back there. Three areas that showed positive adoption numbers were RSS subscribers, blog visits, and Social Networking membership.
Finally I would like to think James Koutroulias one of our awesome student workers, for not only volunteering but doing a great job of crunching all the numbers and compiling the report this month!
MayWofford Web Analytic Report
(PDF)
For basic understanding about Google Analytics please see my Google Analytics 101 post. If your new to my blog and want to understand more about what I'm trying to do with this tracking you might want to check outAn Intro to Web Analytics.