Today is my last day at Wofford.  Kind of surreal, but I wanted to take the time to give you four tips that apply to internet marketing and web development, but if you take a step back they actually apply to life in general rather well.  So take it as development, social media, personal branding or whatever I hope you are able to get some value from these rules I strive to live by.  So here we go:
Keep It Simple Stupid. The KISS rule.  It is so easy to over complicate anything and everything.  I'm one of the worst at this because I'm always looking for all the angles and holes in something, but at the end of the day do not over complicate things.  Always make sure to step back and look at the big picture and ask yourself what you are trying to accomplish.  If you ever find yourself in a very complicated situation and feel overwhelmed do the same thing…  take a step back and ask yourself how can I simplify this.

For your web audience if you can't figure it out there is definitely no way they will be able to.  Keep design clean, clear, and simple.  I would utilize a basic text site that has correct and accurate information 100% of the time over a fancy flash site that was listing dates from last month because it was too complicated to update.  Think craigslist, google.

It's not about you and what you want. I've said this many times before.  In marketing it simply doesn't matter what you want your site to look like and do if the customer/client doesn't like it or does what they want it to.  You have this super great idea for a new product but if it doesn't provide value to other people they won't care.  Yes it might matter to you which can be great if that is your goal.  People will tell you want they want and care about if you ask.  Never be afraid to get input and check your ego and opinions at the door.
Am I adding Value? Why should anyone care? Don't clutter your site with unnecessary content.  If you are interested in personal branding don't clutter your twitter lifestream with posts that you are going to bed or about to eat for lunch unless it's absolutely unique and incredible.  Yes I preach the "just do it approach", but always take a step back before hitting the publish option and ask yourself this simple question.  Does this add value?  Before you go add a new page to a site just because someone thinks it should be up on the web step back and ask if it adds value.  Yes I know the web allows for the long tail of being everything for everyone, but remember rule #1 above.  Everything you post online is out there for everyone to see so you want to make sure that it reflects the best possible of you or your brand at all times.
If you don't care 110% why should anyone else care even 10%? If it doesn't show that you care about what your doing to others then they aren't going to care either.  Be Passionate!  If you are going to do it well go all out, but if you don't truly have the interest in something then it could do you more harm than good.  In Yoda talk…  "There is no try only do or do not".  If you are going to start a blog then commit yourself to it.  Getting into a huge new site design well jump in and get others exciting by adding value and showing that you really care.  I'm not saying you should not ever dabble or tinker with new stuff, but once your ready to commit don't look back.
You know I'm not a married man, but I would say that these tips would probably work pretty well in a marriage.  I guess if anything I would have to classify these as relationship building tips.  Also as I've frequently said "Social Media = Relationships" so if your looking to get into Social Media the tools aren't what is important it is building those individual relationships.  Figure out what you want to build and with whom then choose the tool(s).
Trust is a result of a strong relationship.  Branding and awareness is the result of a relationship.  So now that you have a basic outline go out there and build relationships and focus on the best tools to accomplish that.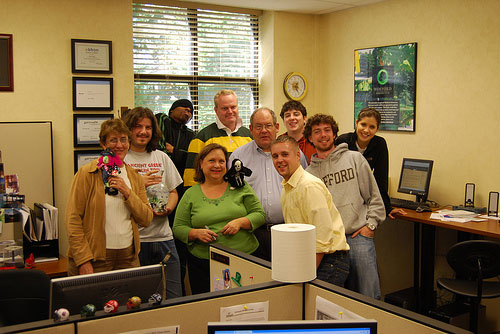 Finally in closing I've made some great friendships at Wofford over the last decade, I can't even believe I'm one semester shy of ten years as a student and employee.  It has been a very special and important time in my life.  So to everyone and especially these (yes those in the picture above) wonderful people in Wofford's Office of Communication and Marketing I wish you the best!  Live long and prosper.