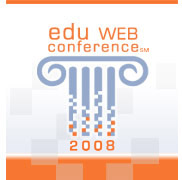 Now that my presentation is through here are some goodies for anyone that missed the presentation along with some additional data.  This presentation was definitely a good learning experience for myself as it's really the first time I've given a presentation in the hour long format.    It's a tough balance not getting too technical while also keeping the marketing message in mind.  Next time I'll know to slow down a little bit and more elaborate on some points.  If you attended I'd love to hear any feedback positive or negative.  I can't learn from what I could do better if I don't know.  Feel free to drop a comment or contact me directly.
I realized I didn't hit a lot on Email Marketing for Admission, because quite frankly that's an area I'm having some difficulty.  The following are from Head of Marketing 's blog and can help in that area.
Selecting an Email Marketing Service Provider
Building an admissions email marketing plan: Part 1 - The Five Commandments
Building an admissions email marketing plan: Part 2 - When, Why, What and Calls to Action
If your interested in viewing the presentation it was streamed, thanks Nick.  The video is almost 35 minutes long and good luck listening through the thick southern accent.  Watch the Email Marketing for Higher Education Presentation Video.  Associate Directoralso did an awesome job recording some of the other presentations which you can check out in his eduWEBUstream Channel.  Brad Ward also grabbed a few presentations eduWEB2008 Ustream Channel.  Are you confused yet?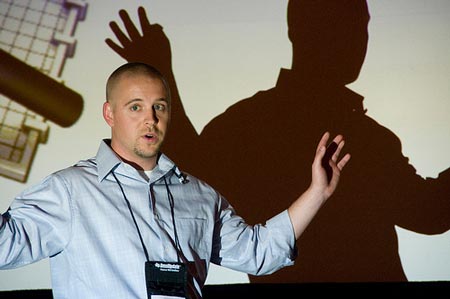 Don't Shoot!  Picture by bradjward
Alka Joshi who did a great presentation this morning looking at Branding a Unversity and the challenges of consistency, asked a questions that really is a million dollar question of email marketing:
"Could you give some examples of good subject lines?"
At the time I had a hard time coming up with an answer and it really through me for a loop.  I've been processing it for much of the day.  The answer to something like this is always it depends.  It depends because you have to weigh so many different things like audience, purpose, keywords, time of sending, and many other things.  The only concrete advice I can give is to check out this postWriting Killer Headlines: Top 30 Viagra SPAM Email Subject Lines, BE WARNED the titles are definitely going to offend some of you.  For some additional links about email here's a link to my de.licio.us bookmarks tagged for "email".
Finally here is the slides from the presentation.