University web designers have a tough enough job as it is, juggling users needs while pleasing committees and numerous other stakeholders. Doesn't matter if your web office has complete control or just influence, using a grid can make completely unrelated sites look uniform.
In this post I'll focus on using a horizontal grid, vertical grids are not as popular so ill leave them up to you to explore.
So what is a grid?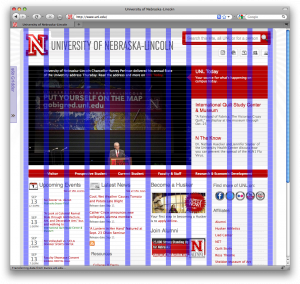 Grids exist for the single purpose of bringing uniformity to a traditionally nonuniform environment. The horizontal grid consists of a set of columns with left and right margins that create gutters. Page elements fit within these columns and gutters.
Using a standard grid allows for fast prototyping, wireframing and designing. By having a set of element widths it gives the designers constraints and the developers a global stylesheet to work from.
The above screen shot is from the University of Nebraska-Lincoln and it shows how nicely the page elements fit into the grid. You would be surprised at the number of sites that use this same grid structure.
Calculating a grid
Step 1 is to determine the site width. 960 is the standard width but you can choose anything you wish.
Step 2 is to choose how many columns you want. The most common numbers are 12 or 16.
Now the tricky part, each column has an equal left and right margin. A typical 12 column grid has 10px on each side which leaves you with a 20px gutter.
Determine your column width by taking the:
(960 px page width - 240 px total gutters) / 12 columns =  60 px wide columns
Reasons to use a grid
Designers love constraints, no really, they do
Consistency without mandating a template
Developers don't have to start from scratch
Breaking the grid can make things stand out
Gives you the upper hand when working with demanding departments
Simple steps to start using a grid
Make a list of your most common page elements

Header, Menu, Search, Main Image, News, Events, Contact Info, Promotions, etc.

Dividing up the page into the desired number of columns and gutters
Place the elements on the grid
Using a framework

Design frameworks for Illistrator, Photoshop, InDesign..
CSS templates to get the structure up fast

Will soon become embedded in the culture of the designers and developers
Downsides of using a grid
They are constraining
CSS frameworks have been known to be bloated
Changing the grid after sites have been launched can be difficult
Can lead to non-semantic naming conventions
Some frameworks and resources
960.gs
YUI Grid CSS
Blueprint
Grid Overlay Bookmark
Grid CSS Gallery
Photo by adactio