Yesterday, I received an email from MoveOn.org that merged the name of the town I live in into the subject line.  I'll admit, it got my attention, as it was the first email I can recall seeing with this type of customization.  But it didn't necessarily catch my attention in a good way - I thought it came off as way too spam-like and it reminded me of a few years ago when it became the craze to merge the first name of a recipient into the subject line of a message.
This message immediately reminded me of an edition of the TargetX Email Minute from a few years back where they recommended this practice as a way to increase your open rates: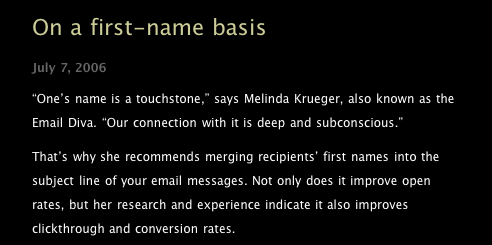 Now, I don't have every edition of the Email Minute at instant memory recall, but this one stuck out for me because it was the first time I could recall hearing of the practice.  I tested it a few times with my own messages and actually found that it hurt my open rates so I stopped using it and never really thought too much of it again.  
Fast forward a few years and what was once a standard "best practice" is now used almost exclusively by spammers.  One look at my spam folder tells me all I need to know about what kind of connotation it derives: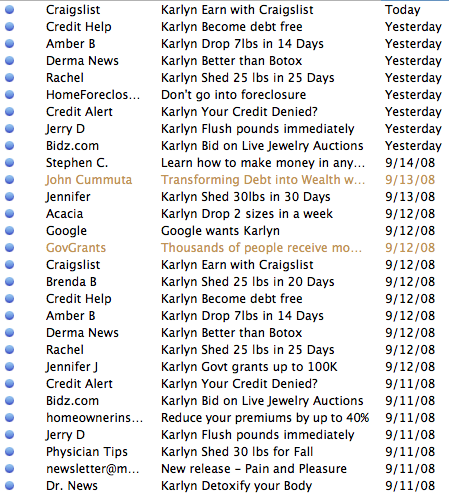 Go ahead, open your spam folder.  Did you find the same thing?  Why is personalizing a subject line with the place I live any different than my first name? Convinced yet?  If not, there is empirical evidence to show that email customization can really freak people out if its done gratuitously and without adding value to the message.  
The moral of the story? You walk a fine line when you do customization in email - it can either add value for the user or it can really freak them out.  I would argue that subject line customization is rarely effective.  Sure it may get the user to open a message, but that's not your only goal with the subject line.  It does not exist in a vacuum from the rest of the message - you not only want to get the user to open it but also take  a call-to-action. The MoveOn email got me to open it, but only because of the "WTF?" factor.  I was so distracted by the subject line I'm not sure I even read the message.  A much more effective alternative would  have been "How YOU can help elect Obama".  Yes, it's generic, but the word "you" has an impact that is much more positive and puts me in a more receptive mindset to receiving the rest of their message.