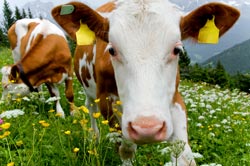 Tagging and tracking can be an important way to segment and understand user behavior on your website.  Google Analytics offers lots of ways to do this, but finding out how to do it isn't always so obvious.  Knowing a little bit more about your visitors allows you to make better more informed decisions and ultimately provide a better site to your visitors.  There are multiple ways that you can segment, track, and tag site visitors that are not so obvious "out of the box".
1. Tagging links to know what media delivered them
There are some custom variables that you can set on your links to provide additional tracking capabilities in Google Analytics.  ROI Revolution has created a great Destination URL Builder that will help you quickly turn your URL into a fully tagged and ready to go URL that will provide more meaning about your visitors in Google Analytics.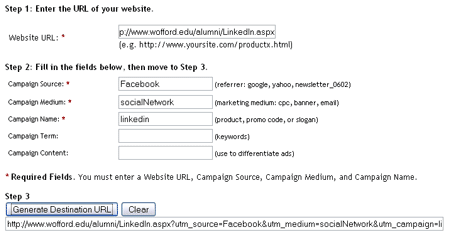 So in the picture below I created a trackable URL that sends people to our LinkedIn page from Facebook.  So a simple URL goes through the following transformation:
https://www..edu/alumni/LinkedIn.aspx
https://www..edu/alumni/LinkedIn.aspx?utm_source=Facebook&utm_medium=socialNetwork&utm_campaign=linkedin
Your end user will never see all this because all they do is click on the link and go to the page, but this provides much more information to us about how this user found out about this page.  This is a great tactic for understanding visitors who come from email marketing, snail mail (through a shortened URL and 301 redirector of which I'll discuss in more detail soon), and other off site links coming to your site.
Example with this LinkedIn campaign I might have additional sources of email marketing, campus posters, snail mail postcards, newsletters, and social networks.  Then because each have a specific tracking parameter tagged to the URL I can then see which campaign was the most beneficial.
2. Tracking downloads and Off Site Links
Sometimes you need to track things besides pages on your site.  For example you would like to track a PDF downloaded on your site.  Maybe something important like your college viewbook?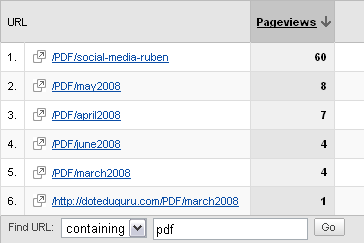 The trackPageview variable can really include any directory or definition that you choose.  To give an example I've been tracking PDF downloads on this blog for months now.  I tag all PDF's by claiming they are in a PDF directory so it's easy to search for in my analytics and then give a meaningful name for them to show up in the reports.  As you can see by this graphic I haven't had a whole lot of downloads of Wofford's Monthly Web Reports, but looks like Director of Web CommunicationRuben's Social Media presentation was in a little higher demand.
Keep in mind that you can use this onClick call to track a lot more than pdf downloads.  If you want to track how many clicks to an external link (say you have an intranet that is on a different domain that you want to track traffic too or have an external campus bookstore) then you can also use this variable.  Same for any sort of documents including videos.  Just add this onClick javascript to the link to the video file of your choice and it's now in Google Analytics!
Note: As I mentioned make sure that you keep it monitored in a friendly organized way.  Maybe for videos you keep them all in a "streaming-media" directory or external links in a "off-site" directory to help make them easy to find.
3. Segmenting Audience
Now let me just confess up front that I have yet to actually use this functionality so testing is in order, but it looks fairly straightforward. Take a look at the coding examples below and tell me what looks familiar in the three?


All three set a variable of "prospective student".  If you are wanting to segment your visitor type to better understand what a specific audience type does on your site this variable can come in very handy.  With the link code you simply send them to a page and assume that anyone who visits that page is going to be in the segmented audience. This is kind of a guess as you don't always know what segment unless you are sending them from something like an internal portal where they have already identified themself.
I think the later two examples probably work a little bit better as you can drive traffic to a landing page through off site means like email marketing, snail mail or something else and then tag that user through either the onLoad call in the body tag or running the javascript function anywhere on the page.  You can input this variable in the middle of your analytics code, but most likely that is in an include file that is part of your template and you would have to setup a special page for every landing page like this that you created and probably not worth the time or the effort.  So just add the javascript call to the end of your content.
Conclusion
So there you have it three easy ways to make your analytics data that much more valuable to you.  Of course if this is your first time with Google Analytics these tips are probably not that useful to you without some basic Google Analytics setup tips.  I've also written more about Google Analytics so feel free to explore the Analytics Category of the blog or search Google Analytics.