Head of Marketing , Fienen and I have been loosely talking about expanding the old .eduGuru again.  This time it's going to be a little more creative.  Who's up for a Blogger contest!?
So why would you want to become a .eduGuru?
Well there are lots of reasons, but let's plow through the most obvious.
Professional Development
Great Networking Opportunity
A Platform for you Voice - You have something important to say and here is a platform to hundreds of HighEdWeb Developers
PRETEND like you are cool - If this video doesn't prove we aren't cool then just look at the picture below of me being a tool.  So we need some cool people to make up for us being idiots.
Be an Expert – everyone is an expert in something so why not share some of that expertise?
Speaking at Conferences – let's be honest if this is something that you would like to do blogging definitely buys you much more credibility and helps "get you found"
Blogging is fun and addictive
Yes, believe it or not, but this blog does make us a little money and you will be included in this revenue stream
Finally and most importantly you get a free .eduGuru T-Shirt!?  Remember that Guru Gear introduced last week?  That's right you can choose one or we can make a customized one that you will get FREE!
Sign me up!  What do I do?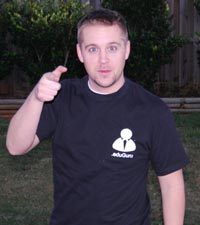 The "We Want You" Pose
I'm an idiot… so what?
Well first of all you have to contact us to express your interest.  It doesn't really matter how you tell us, just tell us.  Send a direct tweet to one of us (@kylejames@fienen, or @Head of Marketing M) or fill out the contact form stating your purpose.
If you already have a blog with solid writing then you are already off to a great start!  Most likely you have more of a life than myself and don't have the persistence or the free evenings to plug and promote the heck out of your own blog.  So why not help grow an active community and be part of an awesome team of engaging individuals?
Applicants will be asked to write a short sample about why you would make a great writer for .eduGuru.  Please include a link to your blog if you have one and maybe even links to specific posts that you feel accurate reflect the quality of work that you will bring.  Basically anything that shows why you are already a .eduGuru will do.  Applications will be cut down to a manageable number and the selected individuals will be asked to write a guest post for .eduGuru which the community will help us to rate.  So worst case scenario for those individuals it will be a great chance to get your blog some exposure and/or a shoutout to the work that you are doing.
After these guest posts we will post a poll and let the community vote on their favorite blog post.  Taking this community feedback and our input we will choose a winner(s).
What is Expected of Me if I Win?
Well besides getting one of the coolest shirts ever made, ok so maybe I'm a little biased, you get to tell other people that you are a .eduGuru.  What could be better?  Heck if you want the beer mug we can arrange that.
Writers will be asked to post at least twice a month, because everyone is busy but with numbers allows us to write better, tighter posts without the pressure of pushing getting something posted.  Writers will also be asked to follow a few fundamental online writing rules that we use.  These rules are meant for the reader's behalf and ultimately provide better content.  So basically it's following fundamental writing for the web guidelines which if you're not doing already get ready to learn!
So Why Are We Doing This?
.eduGuru isn't about Head of Marketing , Fienen, and myself, it is about everyone in Higher Education Web.  Well also because I'm just busier than before and I want to keep growing this site.  Sharing the best information and projects that we are working on in a professional platform is great for everyone!  Readers learn new skills and tricks, and writers get to share their expertise and promote their work.  Who doesn't like to have a little bit of their work and expertise promoted?  I love reading all the Higher Education blogs out there and finding out what others are doing, but sometimes it can be hard to find all these new blogs and for you as a blogger it can be tricky for you to get your voice heard.
So let's cut the noise and work together to provide an awesome resource for our wonderful community!
Who's interested?