There has been A LOT of discussion on Higher Education Blogs and at Higher Education conferences lately about this thing called Social Media. First of all Social Media isn't all that complicated, in fact it's the simplest and oldest form of marketing called relationship building.  As I've said many times before "social media = building relationships".  After reading a recent post on SEOmoz about The SEO Fundamentals Pyramid and participating in a panel discussion at CASE V I think it's important to make sure that people understand that social media comes last.  I know I've preached "just do it" when it comes to social media, but unless you have the rest of your eggs in a basket then quite frankly you aren't ready for social media.
In the post on SEOmoz they built a pyramid where great content then usability and accessibility is the foundation of your website.  If your site isn't in excellent shape then social media won't do you a lick of good.  If visitors can't find what they want on your site then social media won't do you a lick of good.  If your email marketing isn't connecting with readers then your social media efforts won't do you a lick of good.  Do you see where I'm going here?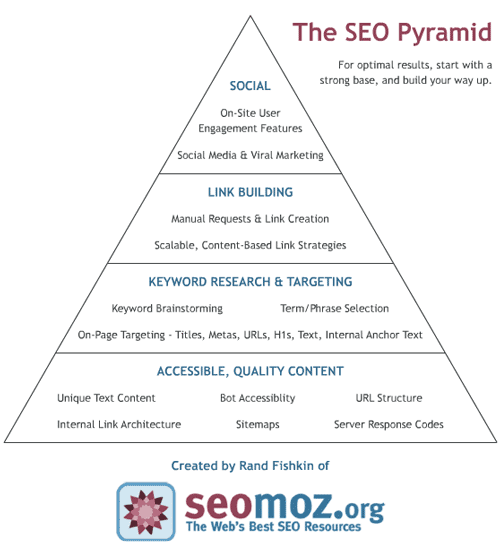 Let me try and approach this situation from the other end.  You have a Facebook presence and are engaging prospective students and the conversation gets to a point where you ask them to click over to your institutions website to learn more information.  They click over and your site is a mess.  They can't find the information that they are looking for, the forums are difficult to use and your content is outdated.  You FAIL.
You have to build your foundation before you build anything else.  Think of social media as the icing on the cake.  You have to learn to crawl before you learn to walk.  Social media is the future and it is turning the technology of the internet into a relational experience but your foundation still needs to be solid to handle the rest of the conversions.
So Where Do I Start?
I would work on building a site in the following order only moving to the next level once you have mastered the previous.  This is also a good blueprint if you are going through a site redesign:
Defining Goals - business goals and what your site must accomplish.  Who is your audience and what makes you special.
Content - creating the great content that tell the stories because if you don't have this the rest simply doesn't matter
Site Architecture - Initial layout
Navigation - Usability, crosslinking content, sitemap, footer
Accessibility - 508 Compliance, Search Engine Optimization, CSS friendly
Site Intelligence - Site Search, Analytical tracking
Multimedia/Web 2.0 - videos, audio, flash, blogs, RSS, social bookmarking, dynamic content
Link building - directories and making sure the rest of the web is aware of your great content
Site Optimization - finely tuning the site that you have created now that you have search ranking intelligence and analytical data
Marketing Efforts - Landing Pages, Email Marketing, Advertising, Promotional
Social Media - now you're ready to jump out there and build the relationships and market your social media using the rest of your wonderfully built site.
So now that you you have a defined path to follow start at the beginning and get to work.  So what did I miss any steps that you think need to be added?  What about order or any other thoughts?  Leave some comments and tell me what you think.