Website Grader is one of those excellent free resources that I run on sites about once a month. In it its own words:
Website Grader is a free seo tool that measures the marketing effectiveness of a website. It provides a score that incorporates things like website traffic, SEO, social popularity and other technical factors. It also provides some basic advice on how the website can be improved from a marketing perspective.
This tool is especially well designed to fit right into a University web developer tool set. Some of the basic measurements reported include:
Metadata Information
Age of Site
Google PageRank
Indexed Pages
Last Google Crawl
Traffic Rank
The report that is compiled is an excellent starting point to make sure that your site rates well for basic search engine optimization practices. The information that returned isn't overwhelming, but just about right for a quick scan about what's going on with your site. You can also do a little comparative analysis with direct competitors websites. You could check out a recent report I pulled for Wofford, but I would recommend simply heading on over and running a Website Grader report for your own site. It cost nothing and stores the report in their system sending you an email for quick and easy reference.
You can also pull reports on a regular basis, I recommend monthly, and see site trends. In fact that is one of the best reasons to use a tool like this. The first time you run Website Grader there are going to be problems that stands out that you need to resolve. After making these changes and giving the corrections a little time to be picked up by the search engines you come back in a month and run the report again to see how your changes helped, or didn't.


The report will also let you compare your site to competition that you choose.
A website is a constantly changing and adapting entity. It is easy to get so locked into what needs to be done on a daily basis that we don't think about what we could be doing differently or better to keep our sites relevant. Website Grader is one of those tools that can help break that deadlock. It is a simply enough tool that only scrapes the surface, but usually that is all that we have time for and when the deeper scans are required it can be combined with other resources.
It is important to remember this is only a tool and even if your site scores extremely well this doesn't mean that it's time to enable cruise control. Director of Web MarketingGray goes so far as saying on his blog post, Why Website Grader is a Bad Idea:
Back to Website Grader, here's my problem in a nutshell, there are somethings in SEO that you can automate, there are some things that you can't and a site audit is at the top of that list. You can use tools to help you gather that data, sift through it, sort, arrange it, and dissect it anyway you want. At the end of the day you need an experienced analyst interpreting that data for you. You don't want the SEO equivalent of a check engine light. There's reason site clinics are so popular at search engine conferences, people need to expert advice on how to fix things from time to time.
I agree with the argument Director of Web Marketingis making, but I think using this tool is well worth the knowledge gained as long as you don't assume you can just relax and not continue to develop a site in the event that you score high. In fact reading through his whole post I'm not sure he's trashing the tool, just warning users that Website Grader is not an easy button for fixing a site and much more should go into a site audit.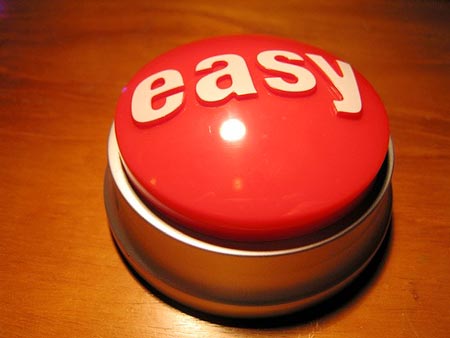 Even sites that score really high have issues that can be further developed. Also keep in mind that a score is computed based on many measurements including traffic and social popularity, meaning you could have a very popular site with lots of visitors and buzz that scores well, but it isn't optimized for search engines.
I've been pulling Website Grader reports since last September and I've noticed that the tool has grown and adapted which is another reason to regularly run reports. It isn't a dead project so as the internet has adapted and new measurements are created to measure a site Website Grader adds them. So go give it a test run and while you are at it visit the rest of the HubSpot site. I highly recommend HubSpot's Internet Marketing blog. So much of their posts easily translate to Higher Education marketing.
In closing I'll leave you with a few of my favorite HubSpot posts for Higher Education marketers:
Customer Service is Marketing Too
How to Convince a CEO to Enter 21st Century Internet Marketing
The New Rules of Marketing
Marketing Metrics: What to Measure in Marketing - Part I and Part II