So tomorrow is going to be the first "Links of the Week" I'll miss since this blog was started five months ago but I'm fully unplugging for the weekend and heading to the Indy 500 for Memorial Day Weekend. Usually I'm more of a Coca Cola 600 person as this is going to be only the second 600 I've missed in the past seven years. I bet you readers didn't know that did you!? Probably don't really care either… It's not that I'm a huge racing fan, but I love to people watch and the atmosphere. For the record I go to ONE NASCAR race a year. Since I've already called myself out, I'll let you fully laugh at my expense with some previous "race" picture. As you can see, I really enjoy getting in character!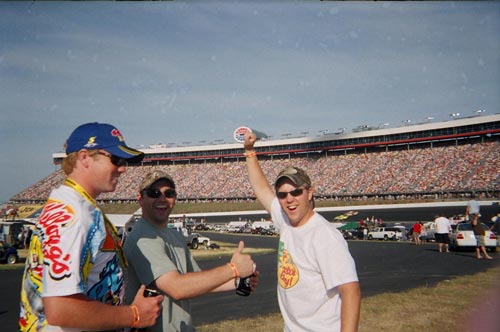 For some reason I thought it would be a good idea to hold my hand up while
enjoying the Coca Cola 600 in 2007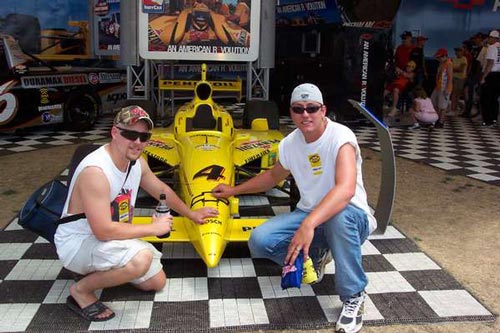 Notice the "Intimidator" shades, pit pass, and camo racin' hat.
It's amazing how this picture fromforeshadows my adventures into
Indy car racing three years later
Ok so that was TOTALLY unprofessional, so let's get focused again guys.

This past week while on LinkedIn I saw Director of Web Marketing and Head of Marketing had joined a Web Communications in Higher Education group and followed suit by joining. If your into higher education web and on LinkedIn go join the group (I have no idea how to link to a group in LinkedIn sorry so here is the link to the LinkedIn Groups page). Also let's connect and you can find a link to the group off my profile.
Finally, here are some links to save you from .eduGuru denial until I get back the middle of next week.
57 Habits of Highly Effective Gmail Users - Gmail has been praised by many as the best webmail option out there, and it is filled with loads of tools and options that make it easy to use, fast and accessible for just about anyone
Content Cowboys and the need for wranglers - Ron Bronson gives us something to chew on about the money we spend on closed closed systems and the rational behind it.
The Insiders Guide to Using Community for Marketing - 14 excellent points to take forward when marketing to a community
21% of Americans Have Yet to Discover the Internets - Some interesting data and analysis from Marketing Pilgrim. The internet is important, but some audiences, mainly older audiences still completely ignore it.
Bubble Alert: Facebook Traffic Declines 10% in April - Both Nielsen Online and Compete showed Facebook traffic declining in April. Is Facebook fatigue finally upon us?
The Sport of Reputation Management - This article looks at Reputation management as it relates to professional sports. Changing a few names the exact same methodology could be applied to college sports and athletes.
Is There Value in Your Alumni Network's Long Tail? - Andrew Shaindlin over at Alumni Futures does some excellent digging looking at the "older than 25″ segment of Facebook and the value it potentially could provide.
The Definitive YouTube Resource List - Whether you are an aspiring film maker or looking to reach a new audience, you will find resources here that will help you achieve your goals. We've gathered a list of some of the best articles, and online tools to help you make the most of YouTube.
5 Unlikely But Great Ways Of Reading Feeds - Great write-up and list of different ways to consume RSS feeds.
Have a wonderful Memorial Day weekend!