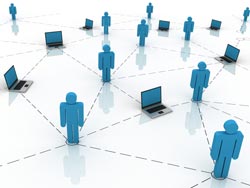 Today I presented an "Introduction to Social Networks" at the Spartanburg Chamber of Commerce.  The presentation was designed more towards local businesses, but all the examples I used were specifically Wofford's Social Network campaigns.  We did record the presentation, but the audio came out as nothing so it's not worth even sharing online.  Despite that I think there are some important takeaways that anyone can learn from.  I'll try and outline some of the important notes from my slides (linked below).
I asked the 25 or so individuals in the room which networks they had accounts on and the results were rather low.  Keep in mind that these are working professionals probably 25-55.
Individuals on Facebook - 2
Individuals on Myspace - 5
Individuals on LinkedIn - 2 (I believe it was the same two as Facebook)
I wanted to show the Social Networks in Plain English video, but didn't have attached speakers so I'm embedding it here.
Pulling the latest numbers from Wikipedia shows that:
Myspace – 110 Million Registered Users
Facebook – 115 Million Registered Users
LinkedIn – 22 Million Registered Users
Introduction to Social Networks Slides
Here are all the Links to Profiles in the presentation.
Facebook
My Facebook Profile
Boss the Terrier Profile
Young Alumni Group
Wofford College Page
Myspace
My MySpace Profile (It's Private… sorry)
Wofford College Profile
LinkedIn
My LinkedIn Profile
Wofford LinkedIn Group landing page
Takeaway Notes
Takeaways about College Profiles.  Build them more as Official landing pages to drive individuals to your site and your other resources.Social Networks are about building relationships.  If you go strictly for business you will fail.  Be open and genuine
Staying in touch is a powerful element of social networks.  You can reconnect with long lost friends and find out what people are doing that you haven't seen in a long time.  It's also an easy way to quickly contact someone that you don't regularly interactive with but might need to because you will be in town or need to ask them something, but don't have their regular contact information.
Meet customers where they are. When individuals find out that your making the effort to cross the gap to meet them where they are they are much more accepting of your brand.
Dive In. Don't be afraid to spend the time to play around with these networks and explore building your own profile and groups.  The ability for something on a network to viraly promote itself means sometimes you don't even have to do much promotion.
I have a bunch more information about Wofford's new LinkedIn network, but I'm still letting the data come in before reporting.  Finally if your really interested in getting into Social Networks you should definitely check out my Social Marketing collection. I'd specifically check out: