So any of you who are regular readers know that I went to the Indy 500 last weekend and you probably also know I broke my regular tradition of attending the Coca Cola 600 to do such. Now having perspective of both events I think it might be worthwhile to take a comparative analysis of the two events and see if I can't tie it back to Higher Education marketing. So… please bare with me here.
The Indy 500 vs The Coca Cola 600 – The Facts and Observations
The Indy 500 is the largest sporting even in the nation each and every year with an estimated 400,000 people in attendance. I've been told that the Coca Cola 600 is the second largest event each year, but wasn't able to find any data to support that instead finding that the Daytona 500 is actually larger, Daytona is estimated around 185,000. That being said Coca Cola 600 still draws around 170,000 which considering the two races are on the same day is pretty impressive that very conservative estimates have over half a million people at one of these two events on the Sunday every year of Memorial Day weekend!
The Indianapolis 500 definitely was the most people I've ever experienced in one place, but it didn't seem to have the excitement and commitment to the race that I'm accustomed to at a Coca Cola 600. People at a NASCAR race proudly support their drivers wearing tons of apparel and pronouncing their support, you just didn't feel that in Indy. I love to walk around and ask people innocently, "Who's ya driver?".  I was disappointed to find out Indy fans don't have drivers.  Also I definitely saw much more NASCAR apparel than IndyCar and it was an IndyCar race! I guess the best way I could describe the feeling is its like going to an Atlanta Falcon's game and seeing Braves hats and shirts all over the place. You understand why the people are fans, but it's easy to tell where their true allegiances are.
Let me try and ask it this way. Can you name me another IndyCar driver besides Danica Patrick? Did you even know that the circuit was called IndyCar? (I had to look it up to be certain myself) Now think about and name some NASCAR drivers? Even if you're not a fan you have probably heard of guys like Dale Earnhardt Jr., Tony Stewart, Jeff Gordon, and Jimmie Johnson? Have star players is important and in recent years the best IndyCar drivers have been leaving the sport to join what is considered the more competitive NASCAR league.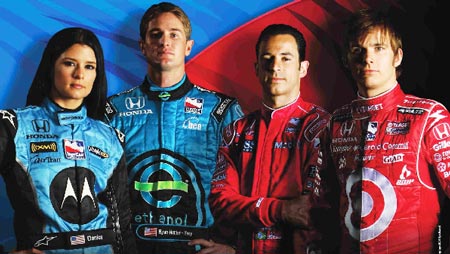 Can you name these IndyCar Drivers?  Maybe Danica?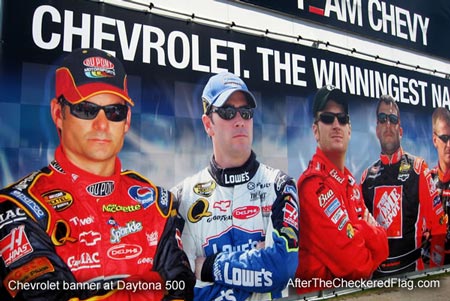 How about any of these NASCAR Drivers?
So How does this relate to Higher Education Marketing?
How are you marketing your college? Do you have the brand recognition and the die-hard fans that will buy your apparel left and right or do your alumni simply get their education and come back next year for homecoming? Do you have the fans that travel with your football team and know every player or the fans that come to a game because they are in town?
How about name recognition? Do you have Jeff Gordon's and Dale Earnhardt's or are you working with guys like Helio Castroneves and Tony Kanaan? Is your president well known? Does everyone know your team mascot or your star football player? Do you have professors on campus that are prominent in their fields that speak at conferences regularly and write books?
Of course we all would prefer the dedicated fans with the devotion and rock solid support that they provide, but we have to be able to provide the goods. Having the prestige and recognition doesn't happen overnight, it takes a lot of hard work to make it into the elite. Someone had to recruit hard to get those key players to the institution and then you have strong people who support them to allow them to continue to be successful.
Finally having all this doesn't mean beans if it's not marketed properly. We know about star athletes thanks to the marketing and buzz of Sportscenter. It's the marketing around a major conference that got us to attend and hear a great speaker. How about the everyday success of a college? It's the good marketing through the website, publications, and news outlets that put this information in front of us to make us a "fan". Although many in higher education are beginning to turn against the U.S. News College Rankings we can't deny that through U.S. News marketing of these rankings that they have such a large impact on recruitment efforts.
So is your school more like the Indy 500 or Coca Cola 600? What are your main assets that make your campus special and who are the key players? How as a marketer can you do a better job to make those assets matter more?
As far as which is the better race?  You make up your own decision:
Head2Head: Which race is more prestigious?
Which is Better the Indy 500 or the Coca-Cola 600?
Largest Stadium Breakdown