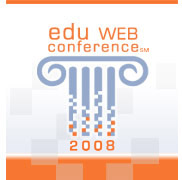 I'm still trying to catch up from my previous five day weekend, but still lots of good links to share. Also wanted to shoot another plug out for eduWEB Conference 2008! I just found out this week that I've been bumped up to a session slot and will be presenting on Email Marketing, basically walking through the fundamental steps that should be part of every campaign. If you haven't signed up to attend and I'd love to meet you there! The early bird discount for registration, save $100, runs until Sunday so there is still a little time. As I commented yesterday on Paul Redfern's blog, Higher Ed Web Marketing, there is no harm in a shameless plug on your own blog. I mean it is my blog.

Onto the links. It's the lucky 7 with one to grow on!
8 Stupid Things Webmasters Do To Mess Up Their Analytics - Web Analytics Optimization is important too! Web Analytics are very valuable but it's so easy for them to become useless if your not tracking what you want.
Press Release Grader - This new tool announced yesterday is still in Alpha/Beta, but definitely worth a whirl to optimize a press release for the web. HubSpot's Press Release Grader evaluates your press release and provides a marketing effectiveness score. This score is based upon basic factors from public relations experts including the language and content of the release, plus advanced factors.
4 Ways To Save The Newsroom - A deep and thought provoking read about how newsrooms can adapt and save themselves.
7 No-Cost SEO Tools to Help You Increase Your Website Traffic - Want to improve your search marketing but don't have the money or the time? We talked to an expert who reveals 7 no-cost tools (plus one paid one) you can use to keep tabs on your competition, shorten research time and save money.
Grow Organically - Sell Subscribers on Signing Up and Staying Subscribed - Some really good tips over on the Bronto blog about creating a solid Landing page for users to subscribe to your email messages.
Transcoding Video for Web Pages - Lance Merker, president of OmniUpdate, offers a free solution to embedding videos on college websites without all the YouTube flair.
Annenberg study: PR healthy, measurement isn't - Andrew Careaga gives a nice summary of The latest USC Annenberg study on public relations generally accepted practices (GAP).
More Than One Billion Users Will View Online Video in - A new study from ABI Research forecasts the number of viewers who access video via the Web to nearly quadruple in the next few years, reaching at least one billion in 2013.