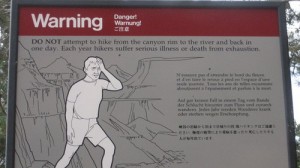 Many people have asked lately, 'how do we deal with negative comments'? It is always asked at the start of a new social media campaign, usually in fear or as an excuse. Be it in Facebook, Twitter, blog comments, etc., this still is an issue I think becomes more personal than institutional. Of course companies and universities fear this the most. If someone says something negative about you, wont that look bad? I always counter with 'they are already posting negative comments about you. Don't you want to be a part of that conversation?'.
Of course, we need standard, communicated rules. Otherwise, we rely on only ourselves and not the greater community. Someday, out of no where, its going to happen. If you arbitrarily react and it should happen again and you react differently, it could come back to bite you. Many have discussed posting the rules of the community. Some said, in posting and discussing the rules of the community, students get annoyed or don't want to see behind the curtain. Either way, internally, you need to know how you are going to react when this volcano should erupt.
Here are my personal rules, which I plan to share internally:
No Profanity
No Defamatory, Personal Attacks
No Negative Rants Unrelated to the Community
No Soliciting From External Vendors
That's it. I'm very much of the mind that should a negative comment be posted the community will deal with it accordingly. Students have been very adept at countering negative comments with facts and positive experiences.  To delete the comment will only give it a stronger power in the community and allow for a firestorm down the road.
In my experience in social media at a university, I've never seen an instance outside of the four rules posted that needed to be addressed by someone 'in charge'. All in all the nature of the community is to be open and authentic. Yes, things will probably be discussed that you would rather have hidden, but better for you to be able to engage - and see - those conversations than to never know they existed. Its product/service/brand management at its best. How can you get better if you don't know what to change? If you know what to change, how great it is to have examples of what prospects/students want?
What are your personal rules? Have you shared them? Are they institutionalized? Are they on your social media properties?