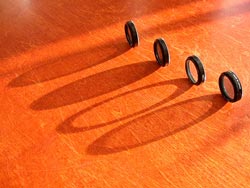 Google Analytics is a wonderful free service for tracking visitors to your website.  A large website often has the challenges of multiple audiences, multiple site editors, and many stakeholders.  A college website is one that definitely falls into this category.  It can be a little overwhelming to dig into the data to find specific information that you want or what a certain stakeholder might be interested.  One of the most important ways to not only keep your data clean and organized, but to assist in drilling down into relevant information is by applying filters to your data.
Remember Google Analytics provides you with up to 100 unique profiles in an account so there is no need to apply every filter to one profile or would you ever always want to.  Segmenting data for different segments and applying specific filters to these profiles can be a major assistance in better understanding the actions of your site visitors.
So let's look at some filters, but before we do this it's important to remember that applying a filter to a profile only works with data going forward and will not fix data already recorded.  Although there are literally countless possible filter ideas here are seven with real and practical uses.
1. All Lowercase Filter
What is wrong with this example?

It looks like all four examples point to the same page, but that really makes understanding your data very difficult.  Besides handing canonical domain issues there is also issues with capital letters being mixed in with the lowercase.
The all lowercase filter does exactly what it says.  This is one filter that should always be applied to every profile and almost makes you wonder why it isn't including in the system by default.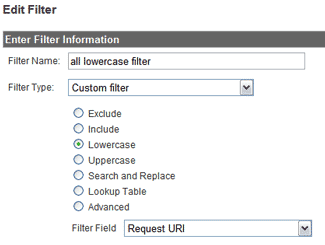 2. Sub-Domain Traffic Filter
In order for this filter to work in the first place you need to make sure that you are including sub domain traffic in your analytics in the first place.  In order to do this there is an additional line to add to your analytics code when you install it.

So once you have that in place you can setup a profile that pull specific subdomain traffic only.  Also keep in mind that if you add this extra line you need to make sure that you add the next filter to your main profile.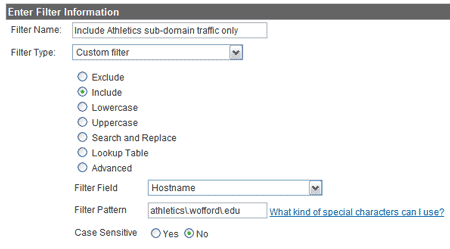 3. Include All Domain Traffic Filter
As I mentioned in the previous filter this filter becomes important when you add the SetDomainName tracking.  Because with the last filter you can filter out a certain subdomain traffic this allows you to pull all the subdomains and your main domain traffic into one gigantic profile.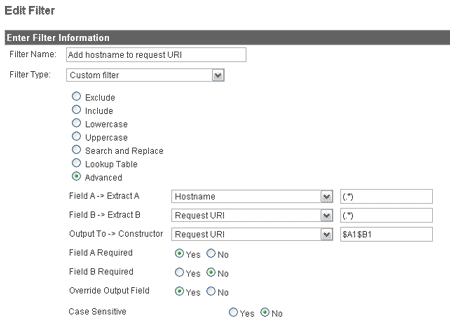 4. Exclude IP Traffic Filter
Excluding a specific IP Address from your profile can be valuable to make sure that your main editor isn't destroying your data because they are all over your site editing content.  Also as this screenshot shows I use it for a little broader purpose to dismiss all oncampus traffic and look at specifically offcampus traffic.  This Google Analytics Help Center will help you create the .

5. Directory Filter
Setting up profiles to analyze and manage specific directories can be a lifesaver.  It also allows you to give smaller segments of the data to specific stakeholders with access to just data that they care about without the rest of the irrelevant information.  You have 100 profiles available how many directories do you have of important segments that valuable information?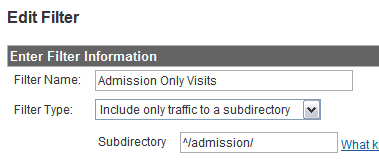 6. Country/Region/City Filter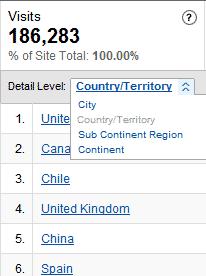 You may want to filter a profile by the visitor country or even city.  You pull the values for this filter from your analytics report.  As shown in the example to the left you simply dig into a demographic report and segment it as you choose and the values given are what you would use to filter.  Knowing this helps you get the filter right the first time.  This could be used for all sorts of filtering.  Maybe you want to setup a profile that looks at your effort it a specific city.  Say if you're a community college then maybe you only care about local traffic.  Maybe you are targeting a specific country where you have a sizable audience?  Or maybe you just know that International traffic is meaningless to you and you just want to filter it out all together?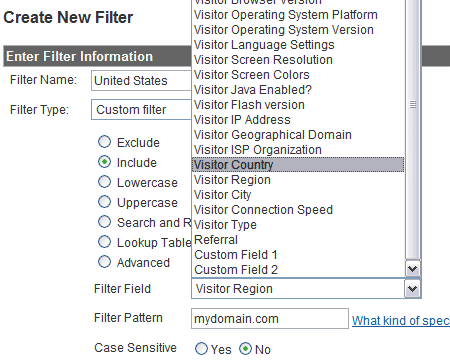 7. Full Referral URL Filter
This little filter is good if you want more information about the exact URL that is sending traffic to your site instead of basic site information.  The results are displayed in the User Defined Section under Visits.  Now it's true that you can drill down from the site referral tab to get the exact URL, but this isn't always as easy and clean as it should be.  Having an alternative to display this data in a profile can provide you with some additional actionable data.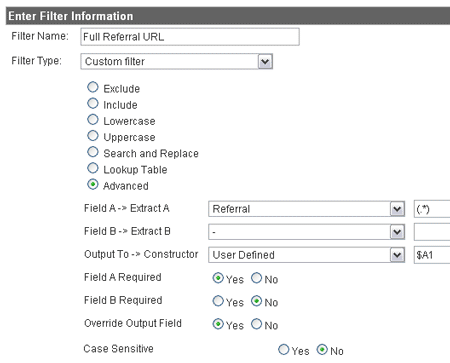 Conclusion
What is important to remember with all filters is that you can mix and match them together on a profile.  It's as easy as setting up a new profile in Google Analytics and applying one or more filter to begin collecting data in a unique and valuable way to help direct your web development and design decisions.  As always you have to define your own goals and establish what you want to accomplish before any of these filters can help you collect the data that is most meaningful to you.