Following Matt, Jeremy, and Mark's introduction posts.  It's only fitting that I do the same.
My name is Founder and I am the Webmaster at Wofford College.  I graduated Wofford inwith a degree in Computer Science and upon graduation stayed on at the college in the IT department as the Night Help Desk Specialist.  Four and a half years later here I am working in Communications and Marketing as the College Webmaster.  I have been the College Webmaster since the summer of 2006.  Also for the sake of completeness I'm the fourth in my family and third generation to go to Wofford.  Because of my history with the school it's only fitting I guess that I contribute to the marketing of this wonderful institution of Higher Learning.  You can find out more about my professional background on

my LinkedIn profile.  Currently I'm enrolled at Clemson University's evening program working on my M.B.A.
Although I have a very technical background, most of my true passions don't revolve around the computer.  I'm a die-hard Atlanta Braves fan and honestly obsessed with baseball.  I help coach a 13 & under USSSA baseball team for a good portion of the year and participate in a fairly competitive Fantasy Baseball league, Woco Baseball League.  I also love to hike, camp, fish, and basically spend a warm sunny day outside in nature.  I enjoy all kinds of music and movies and love to analyze them.  Figuring out what it is with music and movies that appeal to people is just part of the entertainment experience for me.  Finally, probably my biggest vice is I am obsessed with the pursuit of knowledge.  That's probably why I enjoy troubleshooting and problem solving, if I don't know something or have a problem then I am compelled to find out or solve it.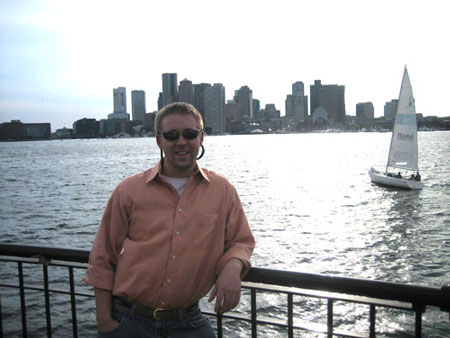 me in front of the Boston skyline for Synergy
Completely unrelated, I have been working the last few days on adding some additional functionality to the site.  Have you noticed?  I increased the size of the font along with a few cosmetic and organization features, hopefully that makes it easier to read?  Going along with the creation of Blog High Ed and the mission to increase communication in the Higher Education community I've setup e-mail subscriptions to comments.  I'm hoping that people will not only start commenting more, but that maybe this will create a little more conversation.  Comment pictures are pulled from MyBlogLog so go setup an avatar so we can put a face to the comment!  For any other High Ed blogs or bloggers in general who would like to add subscriptions to comments I encourage you to download and install the plugin.  Besides blogging, one of my New Years resolutions is to engage more with other Higher Education web professionals and I implore you to do the same. 
I tinkered around with AdSense for a day or two on the blog, but really don't know how I feel about that on this blog.  Does anyone have any opinion about that?  I haven't been able to find any other Higher Ed blog that has ads, so it's probably not kosher,  but if anyone have any strong opinions one way or the other I'd love to hear them.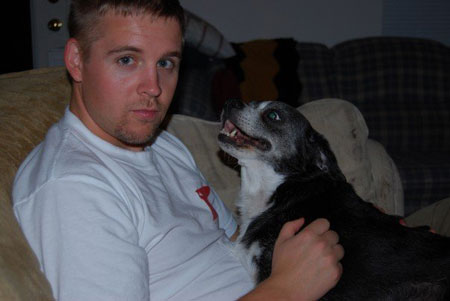 Hanging out with my BFF (best friend forever) Skip