It has been months since I posted one of these.  I honestly assumed that these things were similar enough every month that after the first what is the point in sharing every one?  Each report continues to increase in depth and measurements.  After the recent wave of analytic presentations it really seems like the community is as interested in analytics as I am!  Maybe I can just dream that I had some part in convincing them of it's importance?  So I wondered if it wasn't about time to post another so I simply asked the question of the twitter crowd.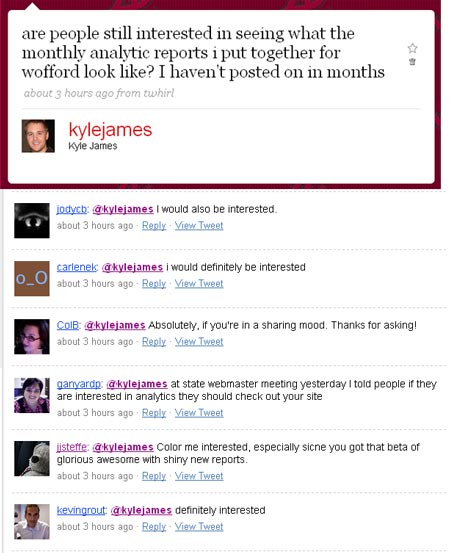 So if you are not on Twitter here is just another example of the power of the community and reason to join.  Without two minutes I had six "tweets" of interest.  That was more than enough to convince me of the value of putting together this post.  I mean everything else is already compiled.  So here it is guys.
View October
Web Analytics Report for Wofford
(PDF)
Also below are some key takeaway and actionable steps for moving forward that I noticed and reported on in my monthly email.  Remember just because I care about all these numbers most people aren't going to understand or care about the report so a summary brings you some takeaway points and also provides you with some actionable steps for the month going forward.
OctoberAnalytics Summary
Takeaway points
Wofford continues to trend positively against benchmark institutions across all three ranking services.  Recent trend downward (remember closer to 1 the better in rankings) are a direct relation to the start of school and increased site usage.
Analytizing some additional data this past month shows that we need to optimize lower pages around specific keywords as we have a lot of searches taking place on pages other than the homepages.  These visitors are looking for something specific and not finding it.
Off-Campus traffic continues strong.  Relatively speaking we care more about this traffic segment.
Our Email Marketing campaign has been recognized as a Benchmark for Email Marketing by other institutions and even our Bronto representative says that we set the bar for what higher education should be doing.  This effort continues to draw strong traffic to the Wofford website.
Our audience continues to not use embrace RSS to gather content from Wofford or our blog network.  Despite this they obviously read and consume content in the Blog network.  It is also an additional measure for Wofford to "get found" online bringing 1,144 visitors through search engines that might not have found Wofford otherwise.
Social Networking outlets continue to blossom.  Facebook and LinkedIn specifically.
Actionable Steps for November
Using Site Search data to analyze where searches are happening and what individuals are specifically looking for to make that easier for visitors to find.  With the purpose to lower searches on these sub pages.
Focusing on off-campus traffic looking for "low hanging fruit" pages that could be optimized to reduce bounce rates on pages greater than 70%
Digging into departmental specific reports looking for under performing pages and optimize based on factual data.
Attempt to increase email traffic to the site 10% to 2,600 visits in November through better calls to action and better tracking measures.
Setup a profile to track Blog traffic for off-campus visits only.  Is our blog reading audience strictly on campus visitors?  Doing some drill down digging looks like about 17% of traffic is on campus.
With Social Networking showing promise we are also planning on pushing forward with more video syndication across multiple sites with much of our video content.  It will be interesting to measure the success of this.
Closing
Remember I've been working and refining these monthly reports for over a year now.  You won't have segmented data or year over year data out of the gate.  Just add those segments as they come along.  Also this shouldn't take all your time.  One day a month compiling the report.  So if there are 20 work days in a month this is 5% of your time.  Give it one good day of focus and make sure that you come out with actionable steps from your research and reporting.
Here is the full list of previous Monthly Analytics Posts to help build a fuller strategy.