Facebook is at it again with redesigning features within Pages. New features were revealed accidentally in December, but now all Page administrators have the opportunity to tour the new features. Admins also have the ability to "upgrade" their Pages to the new design.
What changed in the new design? Here's a quick summary:
Photos are now at the top of the Page in the new layout
Profile picture size of the Page adjusted from 200×600 to 180×540
Wall filters have updated
Notifications are available whenever a user posts or comments on a Page you administer
Tabs are replaced by a menu below your Page's profile picture
Additional moderation features added that allow you to filter posts proactively
Using Facebook as a Page - admins can choose to interact with other Pages as their Page
Admins can comment and post to their Pages as either the Page or as their personal profile
Read about all the upgrades in Facebook's Help section or their PDF manual. Waiting to upgrade? According to InformationWeek, all Pages will automatically be upgraded on March 10.
How does the upgrade impact your school's Facebook Page?
The Wall
You still have the option to display posts by Everyone or just your Page's posts. But, if you select to show posts by Everyone, Facebook's algorithm determines the "most engaging posts" and pushes them to the top. What does that mean? It appears that more weight is given to posts by friends, posts with more interactions and comments, or posts by the Page. But, each fan of your Page may have a different experience with your wall, depending on their connections across Facebook.
So, if there's a controversial post, or a thread that is getting a lot of attention, it may 'stick' at the top of your Wall. If you choose to show posts by Everyone, simply posting multiple items to push something down the Wall may not be effective PR anymore.
At Emerson College, we're discussing changing the Wall to just show posts by Emerson College so that we'll maintain the reverse-chronological listing on the Wall. We'll still maintain a high level of customer service by checking the Everyone section and responding to questions if users post to our Page.
More information about the new option to moderate content posted on Pages is available from Facebook.
Photos at the Top

The most recent photos that you post to the Wall as an admin, or photos you tag your Page in, will display at photos at the top of your Page. I've also found that any photos added to Page albums will also appear in the photo strip at the top of your Page.

If you want to control this real estate on your Page, I would suggest creating an album dedicated to photos you want to appear at the top of your Page. If you post a photo to your wall and want to remove it from the top of your Page, simply hover over that photo and click the 'x' in the top-right corner.
Using Facebook as a Page
To switch to this option, go to the Account drop-down and select "Use Facebook as Page" and you can choose from any Page you administer.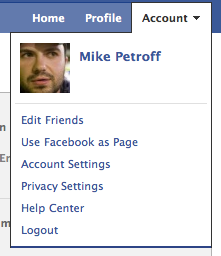 The option to receive notifications (either by email or by switching to your Page) is a great addition for administrators that keep a careful eye on their Page interactions. You can also change those settings if you'd like. If you are using Facebook as a Page, you have the ability to:
Receive red on-site notifications about new people who like your Page.
Receive red on-site notifications and email notifications about people who comment and post on your Page.
View a News Feed for your Page. This News Feed will be populated with stories about your Page and stories about other Pages you like.
Like other Pages and comment on posts by these Pages.
So, be careful when switching back and forth between using Facebook as you, or Facebook as a Page. Just to note, if you would like to post or comment on your Page as yourself and not the Page, you can change that setting in Edit Page -> Your Settings

Feedback
How are you adjusting to the new Facebook Page design? I'd love to hear your feedback and lessons you've learned after using the new design for your school.
---