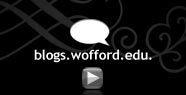 We have just completed the third year that Wofford has had blogs on its website. The first year was about five students from different backgrounds around campus and at different stages in their Wofford experience. Last year saw us tweak this formula to include a few faculty and concentrate on first year student blogs instead of upper class students. This year saw that formula changed a little bit more and added to as the year has gone. What Wofford currently has is a smorgasbord of blogs from all aspects of campus and beyond.
From the intro page:
Blogs linked from this page will provide all sorts of insights on what makes Wofford College the community that it is. From students to professors to staff to alumni, slices of life at Wofford and beyond are contained throughout these blogs. But more than simple online journals, the blogs offer readers the opportunity to interact with the writers - to ask questions and make comments.
It's much easier to check them outblogs.wofford.edu, than me tell you about them, but their is one blog that I want to discuss that has worked really well for us over the last year.
Study Abroad Blog
Wofford's Study Abroad program chose about half a dozen students each year to post their experiences of traveling the world in pursuit of their undergraduate education.  Wofford has one of the highest percentages in the nation of students who study abroad so it naturally makes sense for us to use that in some angle.  Because of the multiple contributors from around the world it's a really interesting read because you never know what corner of the world the next post is going to come from.
Another especially neat part about this Study Abroad blog is Newsweek contacted one of our students who the writer found through a blog post to interview for an article they did aboutThe Rising Price of Study Abroad.  This connection and extra publicity wound have never happened had without the students blogging about their experiences.
Alumni Blogs
Now this was the real challenge.  We've had alumni contact us about blogging before and I think it's something that every college thinks about the best way to pursue.  I think the way we handle it makes the most sense and provides the least amount of maintenance.  Around last Christmas I spent some time searching the Blogosphere for Wofford Alumni who blogged and contacted a few to find out if they would be interested in being linked from our blog page.  This works best for all the obvious reasons.
Your not asking anyone to do something they aren't going already, so no extra work for anyone.
It's much more natural as they are working personally and tying their work experience into their personal posts.
You knew I was going to tie in a SEO reason well here it is, I've asked each blogger to include a link back to Wofford's site.
The link also doubles as extra exposure to Wofford for the readers.
No management or administrative overhead for us, besides regularly following the blogs.
I'm sure there are other good reasons, but the benefits are quite obvious.  Now I'm sure some are worried about the potential of linking to an inipropriate site, but keep in mind these are alumni and it is the blogosphere.  Anyone that reads blogs expects controversy so in the event that one of these bloggers do say something that's not completely in the best interest of the school, it's already happened a few times, then that is an excepted risk that you simply need to understand.