Last week I was contacted by @lisakribs about a new piece of software her company is developing called MobileEducator, designed for colleges and universities to enable low cost entry into the mobile arena.  The software looked fairly neat, and I thought it might be something that plenty of our readers might see value in, so I agreed to sit down with them and take a tour of it.  So, first thing's first - disclaimer. I have in no way been paid by MobileEducator for an endorsement, I have not accepted any compensation in exchange for this review, and it was a clear stipulation that what you will receive is my honest opinion of the product they are creating.  My intent is to give a fair review of their software, as one higher ed web professional to another.
So, that said, some fast background on them.  From their site, MobileEducator was created by a group of admissions marketers, expert software engineers, developers, and designers. They believe schools, universities, and colleges should have access to expert mobile development resources and that apps should be ever-changing and dynamic, not static.  The software is really brand new (You can find a school, Simon, a customer service expert, Shep Hyken, and a Joan Jett app currently using the system in the App Store), and some of my screenshots and comments will be in reference to a currently released version, a version that will likely have already been updated by the time this review is published.  They saw what groups such as the students at Stanford (iStanford via MobilEdu), or a student team at OU (OU2Go) had done, and decided to see if they could develop a framework that would allow anyone to get into mobile apps without the expensive cost of development and cumbersome integration processes that schools face now.  Granted, that heavy-handed process has resulted in some really awesome apps for universities, but few schools have the resources and skills available to tackle something of that scale.  So, let's look at what makes this process tick.
When looking at prospective students, there are some numbers worth mentioning.  According to MobileEducator, 28% of iPhone users and 69% of iPod Touch users are between the ages of 13 and 24.  That amounts to approximately 20 million users.  Online ad campaigns currently convert at about .3%, while mobile targeted campaigns run at 13%.  My opinion is that the reason mobile platform targeted campaigns work better is that for them to work, the user has to already have agreed to use your application or tool that provides the channel for the message.  This also means that you have a smaller pool of more relevant eyes to see your message, so those numbers aren't exactly apples to apples necessarily.  But, the goal is clear: tap into a more relevant market with tools that can add value and enhance the experience of students on your campus, and in turn give you the ability to leverage that network for other goals.
The Framework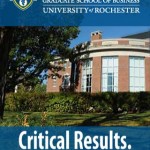 First off, every school gets its own app.  It's not one global app that students pick a school from.  Your app is custom compiled and submitted to Apple, and uses the modules and information that you've chosen to use.  The system is built out by you (or with assistance from them) to include all your own graphics, colors, and any selection of modules that are offered with content you provide.  That might be RSS feeds, images, video, links, etc.  This process is made simple via the MobilityCMS platform, a web based content management system (CMS).  You never have to write a line of code, or know a thing about iPhone application development.  This is all part of the lower barrier to entry idea.  However, the side effect would be that two different schools using MobileEducator will ultimately have two very similar applications, even though they might use different combinations of modules (look up the examples mentioned at the start of this article and you can see how the different clients, not even edu related, all clearly are driven by the same engine).  This is simply the price of simplicity though; if you want more complex, you'll have to pay for it.  In the example I viewed, the user was the Simon Graduate School of Business, and they had implemented features such as a news feed, images, lectures (a YouTube feed), as well as some additional tools like an event listing, tie in to a mailing list, and a page of links ("Everything Else") in my video.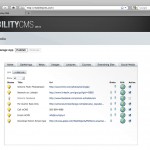 The MobilityCMS platform also affords the user a simple upgrade path as features are added.  MobileEducator can add new modules over time, and give you additional tools to drive the application without making the overall framework and management any more complex.  This is certainly good for you, and smart for them.  You could pay more money for a more complex app from some other company, but then you're also stuck paying again and again when you want the app updated.  Here, the updates are just going to come with it through the CMS.  Over time, this CMS could enable all kinds of spinoff tools that add value to your package.  Even as it is, the currently available modules allow for some creative options, such as imported Twitter feeds, student blogs, lecture captures, etc.
The App
Okay, first, go ahead and run through the YouTube video below.  I apologize for the blurriness, my Flip camera isn't so great for close quarters.  I'll have some screenshots as well to help.
I already mentioned the particular modules that Simon was using in this application.  The main page that loads is primarily just a big static image for now, though future updates may allow more WYSIWYG type editing of that area to make it more useful.  Note that they reused some tools, like the YouTube feed, once for a section called "Lectures," then later for "Simon Trailers."  Same tool, just reused with a different filter.  The "Everything Else" panel is just a list of links.  You could put Facebook, Twitter, or links to your internal systems there.  They chose to list several PDFs that they wanted users to have access to which you can see me navigating in the video.  The application lets you highlight the top four sections that you want users to have access to, and the "More" option leads to everything else you have.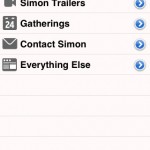 Naturally, the app is released for free, and depending on the content you include in it, could be targeted at any number of multiple or different audiences.  By utilizing RSS feeds and the Mobility CMS, you can provide custom, changing content to users via the app.  This also allows you to leverage the appeal that is afforded when users view your university as being more high tech than competitors when you can tap some of these niche market areas that normally cost a lot to get in to.
The Good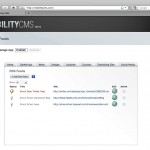 So, here's the dish.  I like the application for it's simple creation interface.  It achieves its goal of lowering the barrier to getting clients into the mobile space in spades, which will make it a prime target for small colleges, or schools which overall lack the resources or developers capable of tackling an iPhone app on their own.  There's also a lot of flexibility provided by the available modules, as shown with the Simon example of using multiple YouTube areas to show different things.  This really provides quite a few options and opportunities for creative areas within the application.  You could even extend it with web based components by using the link module combined with the internal Safari browser (so clicking links won't take you out of the application).  It's also fast.  You're not waiting long when loading the app and moving between modules.  Content is right there, and you don't feel like there's a lot going on in the background that you have to wait on.  MobilityCMS provides some simple application stats, such as download tracking and mailing list subscriptions, and you could easily build destination URLs to include Google Analytics tags to track incoming users to certain pages of your site from the links module.  Lastly, the cost is very affordable, with most people being able to get into the platform for around $5000, with a monthly service charge of around $125 at the time of this writing.  Keep in mind, the setup fee is one time, so after that you're only on the hook for the $125 a month as long as you want to keep the app active.  I would love to see some people try this coupled with some fundraising campaigns or storefront options to see some hard ROI type numbers on it.
The Less Good
Its simplicity is also a failing in this case, as power must be sacrificed to make the system flexible and easy.  So, for example, don't plan on doing any fancy systems integration with the app (though an XML/XSLT module in the future could easily work to bridge that gap).  The application interface lacks some flavor, and as mentioned, two different colleges will inevitably have very similar applications (luckily, you're not likely to have students making a choice of whether or not to come to your school based on iPhone app comparisons).  Besides changing the top four tools on the app home page, there just isn't much else you can do besides push everything else into the "More" area where it gets listed out.  Presentationally that's just not much fun.  It makes the app come across very flat, in a navigation/usability sense.  You can make it very broad, but not deep.  At the very least it would have been nice to see an image rotator for the home page image, something to provide some variety instead of the exact same static image constantly.  Current module selections are a little limited, but that's not so bad, as it means you don't have to keep track of a ton of stuff to keep the app data fresh.  If you stop paying for the service, your app can remain available, but the content in it will go stale.  While I stick this in the "less good" header, it is understandable.  The image module is fairly basic, and doesn't support anything like separate albums or categories (though you could use several instances of the module, but that'd get a little messy if you wanted to make a lot available).
The Future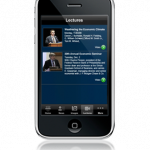 Currently, MobileEducator is aiming for three to four major updates a year.  I already mentioned that they have a WYSIWYG module nearly ready for the application, which will bring a lot of new possibilities to users.  This includes being able to make the app home page functionally useful too, perhaps with links to student portals, eLearning software, giving, etc.  There's also a planned Google Maps module that would be combined with the GPS in the phone to provide simple mapping and potential user discovery options (imagine being able to do a flash mob at a football game by identifying where other app users are in the stadium).  Currently the system is only available for the iPhone, but there are also plans to expand into tho Android market as well as providing a simple mobile web based version, with the one CMS feeding the data to build all the different apps.  I'm told that as they add this ability, there will be no increased charge for the extra platform.  If they eventually add Blackberry into the mix, that would make them about the only system I know of that's designed to give a non-technical way to build applications to basically canvas the smartphone market (and even without a Blackberry specific version, the web version would allow you on to basically everything else out there).  I would like to see some increased flexibility added to the system, as well as the ability to layer functionality similar to the way a lot of sports applications work right now in how you can drill into the app, with the navigation changing as you go.  Speaking of sports, there would be huge value to enable sport score reporting, possibly via a web services API or similar.  I'm not saying that's coming, that'd just be a wishlist item from my court.  There'd also be some benefits to adding in push notifications for when content updates, and maybe something like iCal type support for events to quickly add them right into the iPhone calendar.
Conclusions
It's not perfect, but it is a pretty good start for sure.  Most of the things I mention in the "Less Good" section can be overcome, and there's huge potential if they start covering some of the things I mention would be good on a future roadmap.  As it sits, I like it for someone set on getting onto iPhones that can't do it themselves, which is a whole lot of us.  Their direction is certainly pointed correctly too, with the goals to use their CMS framework to get into additional markets outside the iPhone.  That's a huge value that shows they realize the iPhone isn't the only mobile sphere people exist in.  In the end, I look at something like this and ask myself: "Is this something I would use myself, as a user or a client."  I would pretty confidently answer both yes in this case, because I'm pretty sure the value is definitely there to justify the investment.