2011 got started at .eduGuru by conducting a now, and the results are prepared in multiple formats.
Here's a look at some of our favorite stuff. For what it's worth, the full data has WAY more info than we're covering here, and the summary PDF in the zip file has it presented nicely. We had a nice balance of results, nearly a 50/50 split between private and public schools, and a pretty even split of schools above and below 5,000 students.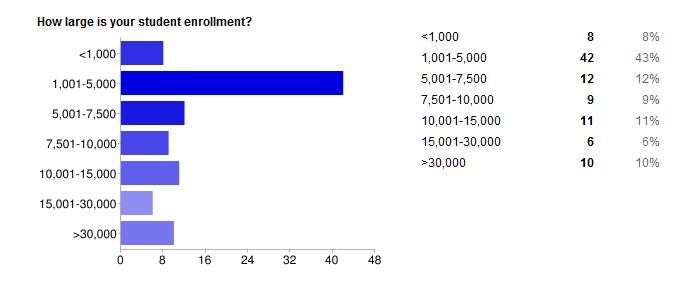 On the video front, 97% of schools are making video (not surprising). If you aren't you better get on it, because your competitors absolutely are. On top of it, 80% are doing at least some HD video. Quality matters, and it's cheap to get in to HD video now. Don't skimp on it.
"Two greatest things about using video are the ability provide rich experiences that can be shared and enjoyed widely and that we have talent — mainly student — who can produce it. Unfortunately, while everyone sees video as a significant tool, we're not seeing any additional staffing or other resources to adequately meet demand."

~ Survey Comment
Budgets showed an interesting trend, with over half the respondents either spending nothing, or over $5,000 a year to create video. But, I think it's important to know that even with now committed dollars, it's still a world that is open with the right connections. Borrow equipment, use existing student workers to film and edit. It can be done. Though having money certainly helps.

"We are way behind in video production for the web and are currently looking to expand our staff - but for the time being only with a half-time position. Everyone wants more video, but financial support to make it happen has been minimal at best."

~ Survey Comment
Everyone on your campus should be considered a candidate to be a video producer, not just you. You should help. Be a voice of experience, but be willing to help them and even lean on them to supply you with the goods. It can really help spread out the workload, and might result in some happy, unexpected results. That said, marketing/PR/communications offices account for nearly a full 3/4 of the "control" of the video kingdom keys. In a way that's good, because they are likely the best equipped to help others. At the same time, a fifth indicated no control, which is a bit scary since it means quality and consistency could be a huge issue.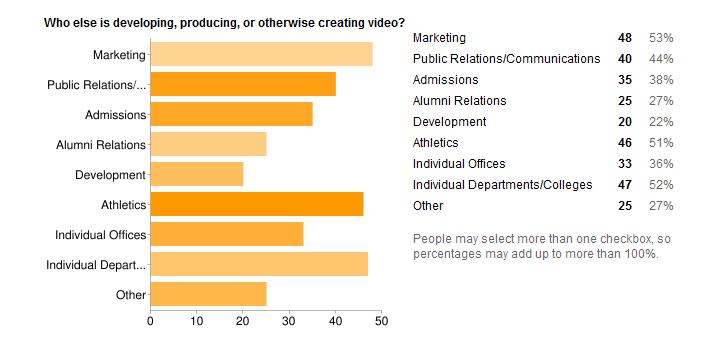 "Our social media specialist has been the one who has introduced video across the university. Many faculty and staff are now taking advantage of our HD Flip cams."

~ Survey Comment
Video doesn't have to be strictly on demand though. More than a third of schools are also involved in some live streaming. This is popular for timely events, such as graduation.

Sad, sad sad. We have to do better than this. 65% are not captioning their videos. We gave some options as to the reasons, but ultimately there are no excuses that would mitigate potential lawsuits. We should all be doing at least something to caption some videos. It's unrealistic for most people to try and do all of it (as indicated by only 10% managing that), but it's simple to at least do some. Hopefully this improves.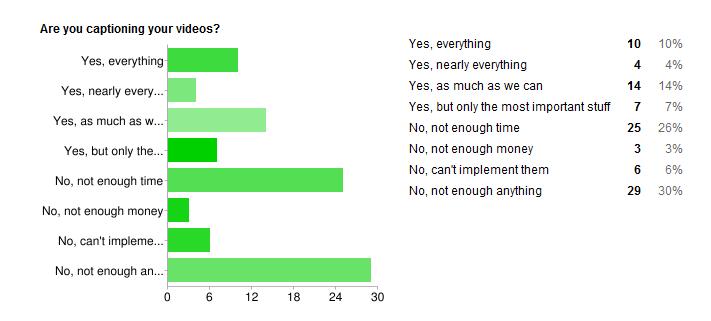 This was just an interesting chance to get a snapshot of iTunesU penetration. Personally, I'm not sure this would hold up over a larger sampling, as anecdotally, I definitely don't think half of schools I know are on it. But this will also be one to watch, as well as watch how it grows over time.

Here was a pleasant surprise. Almost a third of schools say they are at least trying out HTML5 video, despite the flux still happening in the spec. This is another one to watch, to see what the growth rate is.

No surprise, in the world of 3rd party hosts, YouTube wins big. Vimeo, despite accessibility issues, comes in second. Facebook is a fair third, and provides a good tool for injecting video directly into an audience. Livestream services are all pretty small still though.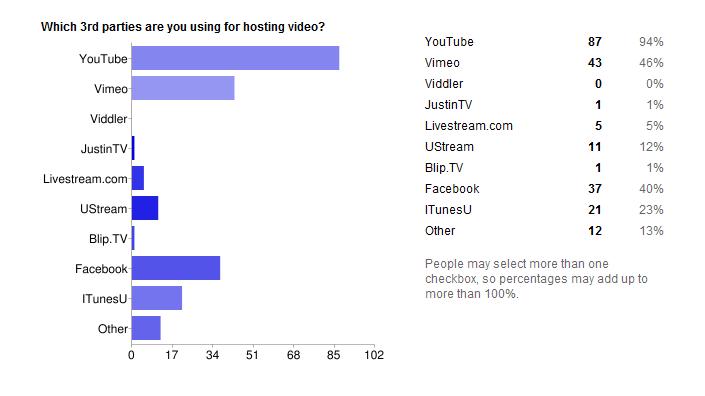 "Almost all our video goes onto Youtube. Since pretty much every device out there supports Youtube playback, we find it bypasses the HTML5 video challenges at the moment."

~ Survey Comment
This is just a small sampling of what the full results reveal. In them, we also look at people hosting their own video vs. handing it off to 3rd parties and why. There are additional stats about how much video is made and for what purpose. Plus, tons of great comments that we couldn't squeeze in here. Some of these stats are also included in my presentation on video strategy given during the.eduGuru Summit, the slides for which are included below. As always, all of , and is licensed under Creative Commons for you to use and build on, if desired.
Head First Video Strategy
---
Photo credit:

Some rights reserved by John Pannell
---