We're all a flurry in our respective endeavours: creating dynamic content for our site, working on optimizing our text for search, creating opportunities for offline efforts to sync with online communities. But have we really stopped to consider how our target truly wants to receive content? How will we determine if what we created and publicized is being used - and being used in what way will make it a valued effort internally?
Many times we try  to calculate what engagement - a connection to our university, an ongoing, growing conversation - really is. Is it the number of applications? *Gasp* the number of pageviews? How many people deposit? How many graduate in four years? But when it comes to social media and web based tactics - what constitutes success?
We can't use number actions divided by total number of community members as a measure of how effective we are. It's not true that comments and user generated content are the only ways that our community shows that it's engaged. What if our population tends to primarily be 'Spectators' or 'Inactives'?
I love this graphic from Forrester: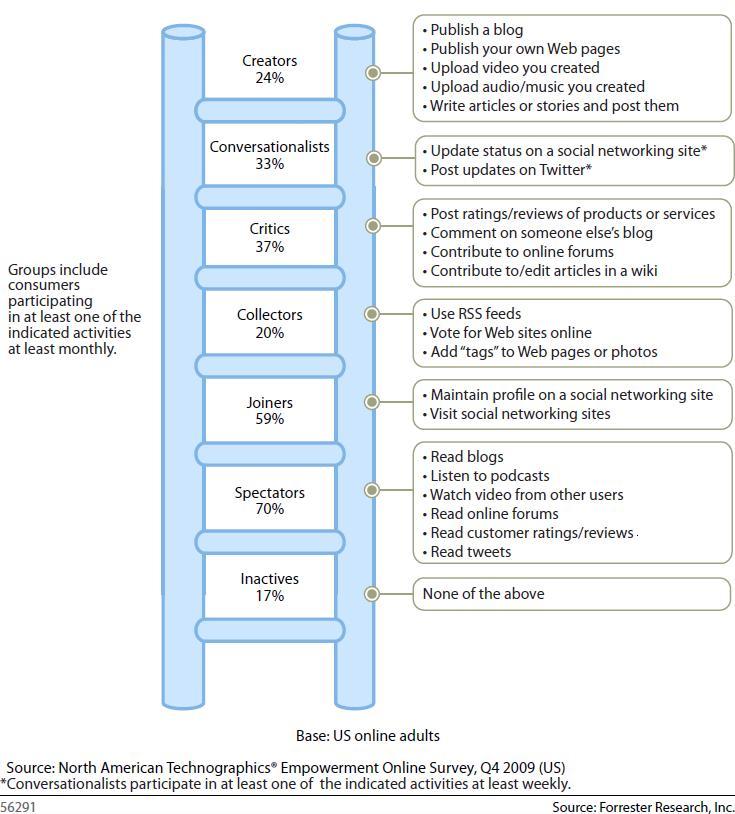 If you've not yet tried this tool - I'm sure you have - via Groundswell and Forrester, try it now. You'll see that in the US college going age group, primarily, we're dealing with joiners and spectators. Thinking about this, does it change how we measure our efforts? Just because no one is talking, doesn't mean that no one is listening and, perhaps, attending events or passing along the info to others verbally. The point is, it becomes hard to determine to a final scientific number what engagement is. It's not filling out a form online. It's not applications. It's a deeper connection and involvement with the school, over time, to a point of integrating information into a person's daily life. Are we finding ways to capture this, either in our listening strategy or in surveys for events, etc.?
In the end, we want engaged, active community members who attend, graduate and remain involved in our educational institutions. How much do we really know about their willingness and desire to build on what we create for them online?
Photo Courtesy: FD on Flickr