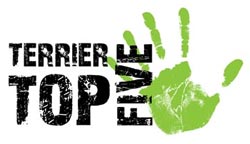 Now I'm going to go ahead and admit upfront that we don't have full tracking in place to measure the actual dollar amounts that this campaign contributed, but I think it's still a good example to show people how we actually measured a recent Alumni Campaign.  This is a learn as you go process so next time we will hopefully get a little better, but we do have some takeaway knowledge about how to do it better the next time and which means better reaching of this audience segment.
The Terrier Top 5 campaign was based around Homecoming and was meant to encourage recent alumni (2003-08) to donate even if it was only $5, but also to reconnect with the College through Facebook and each other.  Visit the Terrier Top 5 Challenege Page.  This campaign is still ongoing throughout the end of the year, but through September and early October we did a little measured campaign to see which of three sources was driving engagement with this audience (Young Alumni).
Measuring traffic to the site generated by this campaign through tracking setup specifically for this campaign we are able to measure relative success across different medium.  This campaign was pushed across a few different medium including Print, Email, and Social Media (through Facebook).  Each Media type was targeted twice.
Below is the campaign outline
| | | | | |
| --- | --- | --- | --- | --- |
| Campaign | Date | Source | Medium | # Recipients |
| Gimme 5 Challenge | Sept. 4 | postcard (letter) | snail | 1800 |
| Gimme 5 Challenge | Sept. 11 | mailshot | email | 1113 |
| Gimme 5 Challenge | Sept. 18, 25, Oct. 2 | facebook1* | social | 382 |
| Gimme 5 Challenge | Sept. 22 | woffordtoday | print | 21000 |
| Gimme 5 Challenge | Oct. 1 | mailshot | email | 1122 |
| Gimme 5 Challenge | Oct. 7 | facebook2** | social | 639 |
*Received by 2003, 2004, 2005,Facebook group members.
**Received by 2003-2008 Facebook group members.
So you are probably wondering how did we measure off line campaigns and email?  Using and destination urls and off line tracking techniques of course.  Just to show the examples here were the shortened versions of the URLs that were used.
wofford.edu/top5 - for the letter snailmail
wofford.edu/topfive - for the Wofford Today
wofford.edu/terrierTop5 - for 9/2 Facebook
wofford.edu/terrierTopFive - for 10/6 Facebook
So let's look at the various medium results.
Different Medium Comparison
Medium
# Recipients
# Web Hits
Response Rate
print (snail+WT)
22800
11
0.048%
email
2235
597
26.711%
social
1021
250
24.486%
Pretty revealing results.  It is near impossible to get exact data, but here are some loose numbers that state a rather obvious picture when communicating with our Youngest Alumni.  They do not respond to print.  It's a little close to say that Email is more effective than Facebook, but the data obviously states that email is not a dead medium for communicating with this audience.
Also let's take a look at a little of the Email Results for these campaigns.  I pulled data out of our email account with Bronto and crunched the numbers in excel to create these graphs.  The data is from the two separate mailshots that we sent out.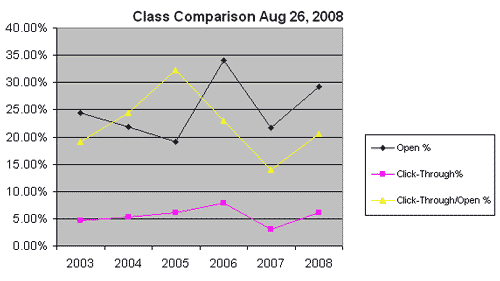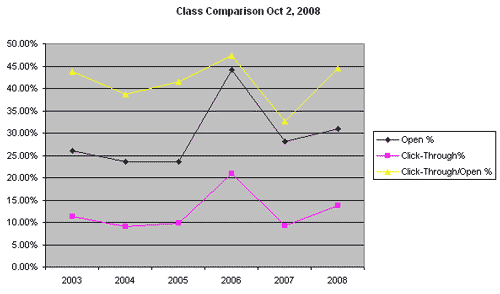 Finally this last chart is pulling the data from Google Analytics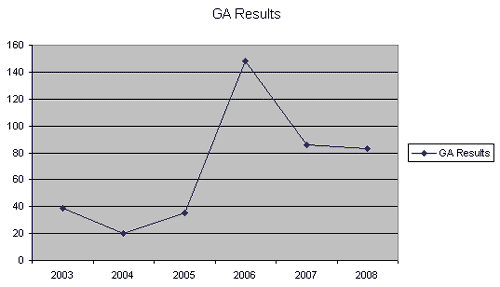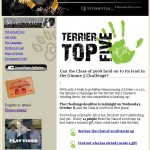 (Click on the image to the left to see a larger version of what one of these targeted emails looked like) I think it's good to note that although it's not exact the numbers are fairly consistent across the different emails and according to Google Analytics.  I'm not exactly sure why theclass had the best response.  Maybe that is the perfect age where you feel established but still want to be connected with your alma mater?  Finally notice how the second email had better responses almost across the board.  This shows that it doesn't hurt to remind people and hit them up again.  You will have a few people that are early adapters and respond the first time, but coming back and reminding them again in a month is perfectly acceptable with this audience.  Also in this example they responded better closer to the deadline.
So Key Takeaways
Like I said this is an ongoing thing and every little step we make forward helps us better understand what does and doesn't work.  The data helps drive marketing decisions.
Always Be Testing!
Measuring across different mediums established this audience responses well to Facebook along with Email.
Send multiple emails is ok and well accepted
Print is DEAD to this audience at least from a call to action standpoint