Yesterday I posted a case study showing how email marketing is still relevant to Young Alumni.  Because it's the day before Thanksgiving and it's a little slow I've been doing a little more digging into that campaign.  A little over a month ago Google Analytics launched some new features including Advanced Segments and Custom Reporting.  Unfortunately most people probably haven't had the time to play around with them to find really practical uses for these new features.  So let me give you one.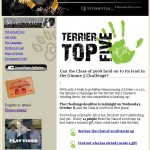 One of the things that was to segment the emails by class and each class was sent a unique email.  Now the only thing really unique about these emails was the class year mentioned in the email, but it was still segmenting our audience.  (Click on the thumbnail to the right to see an example)
Links in each email were tagged separately but all were a part of the same campaign "top_challenge" but each was applied to a different source, "Top 5_2008″ for example.  This allows us to view traffic data in Google Analytics both as a campaign but also by individual emails (the source).  Using the new Advanced Segments feature we can create Segments of each Source and view that against the whole campaign.
So now that I have created my segments looking at Source it's time to head to the Campaign report and drill down into "top_challenge".  Below is the report with the segments applied and comparing against three segments.  Note:  Google Analytics currently only allows you to apply against three segments.
I pulled this data today almost two months after the emails were sent out and they are still driving trickles of traffic to the site.
Because I have six segments I went ahead and created PDF's of each.
Campaign 03, 04, 05 Segments
Campaign 06, 07, 08 Segments
It's a little hard to view the segments in that graph.  So here is a weekly graph where you can distinctly see how the various segments measure.
So there you go an actual application for the new features.  If you are tracking campaigns in Google Analytics you might as well be viewing your segmented data a little clearer.  I've been playing around digging into reports looking at depth of stay on site and seeing how that compares across these groups, meaning creating custom report of three or more page visits against these segment groups.
So I challenge you to play around with these new features and share what you discover.  Hopefully they have been rolled out to everyone by now?
Additional Links showing Google Analytics new features
David Harry (aka The Gypsy) recently wrote an excellent two part post showing creating custom segments and reports for keyword analysis.  Part I & Part II
Avinash Kaushik introducing the new features and showing everyone how to Be an Analytics Ninja!