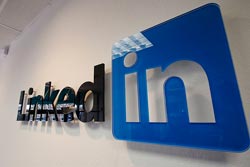 It has been a while since I've posted anything in the Social Survey series.  Writing about using Social Networks for Higher Education has kind of taken a backseat to Analytics lately, but let's see if we can't combined the two into a web marketing gameplan?   Way back in April Andrew Careaga wrote a post LinkedIn presentation at CASE about Cal Tech's Alumni group on LinkedIn.  It was really one of those "DUH" moments.  Why hadn't I already thought about setting up a LinkedIn group for Wofford Alumni?
LinkedIn is a network of influential businesses users closing in on 30 million accounts.  With LinkedIn's recent announcement to launch their own Ad Network a good bit of interesting data has been released about their audience.
Purpose of a College Alumni LinkedIn Group
The benefits are so many and the upkeep is so minimal.  Doing a little more digging I was able to uncover an older post by Andy Shaindlin about 10 Pros and 4 Cons of LinkedIn for Alumni Groups. This post is well over a year old and it looks like Wofford is getting into the game late.  LinkedIn is currently in the process of increasing functionality of groups significantly and many of the cons that Andy outlined in this post are no longer issues and the pros are sometimes even stronger than before. Bottom line the purpose of creating a College Alumni LinkedIn Group is to provide another channel to help individuals connect professionally.
Update: Andy wrote a follow-up post with 7 Additional Considerations that is definitely also worth the read to anyone that is marketing on LinkedIn or considering it.
LinkedIn is a free resource that requires little upkeep and administrative work by anyone at your institution. You are essentially piggybacking on a successful social network to allow your alumni to stay connected professionally and to even help your current students connect to successful alumni in their fields of interest.  A big complaint that I indirectly hear is that it is so difficult for individuals to get information about alumni and their fields of expertise.  It is not because we don't have the information, but because there is hesitation, and rightly so, to freely share that information.  An Alumni group on LinkedIn allows individuals a way to break down some of this barrier with willing participants.
To give you an example of a real life situation I can see coming out of this network is a soon to be graduate who is interested in moving to say Boston and wants to be a lawyer and not a clue about where to start.  By joining this alumni group they can search alumni who either live in Boston or are lawyers and make a connection that is much more likely to contact them back and be helpful in guiding them through the process of what to expect and how to go about doing it.  Our alumni base, and I would imagine alumni in general, are very helpful and although this could still be a shot in the dark it's still a contact that both parties can feel much more comfortable about establishing because of the relationship and commonality both have through the college.
Getting departments Involved and Setting Up
In Wofford's case I knew the two parties I needed to get on board with this network was Career Services and the Alumni Department.  We would be marketing this new group on both ends and providing a service to both groups.  Once talking through the relative safety and low cost of making the leap we all agreed that it was a no brainer and begin to setup the marketing plan.
The first thing we needed was a LinkedIn Landing Page on our site to explain the group and hosting it under our Alumni section made the most sense.  I'll be honest at this point we leaned on Cal Tech's LinkedIn page as an example for advice about what should be expected of this page and ultimately came up with something simple clean, and to the point.
After designing the page we needed a few graphics.  LinkedIn requires a large graphic, 100×50 pixels, and smaller one, 60×30 pixels.  We didn't try anything fancy, simply something that was easily recognized as Wofford.  We also designing a graphic that fit into the rest of our site that we could use for marketing and a graphic on various pages to identify that we are on LinkedIn.
Now that we had our landing page it was time to setup a little tracking.  Because someone becoming a member of the group happens on the LinkedIn site it's a little hard to know what happens unless they join, but on our landing page we can track traffic that we send to it through email marketing and people who click over to LinkedIn through the onClick tag with Google Analytics.  Also using Destination URL tags I could tag the URL's clicks coming to the page through email marketing to see how effective that measurement was and if those people did in fact click through to LinkedIn.  Check out this post to learn more about Tagging and Tracking with Google Analytics.  Being totally transparent this was my first time attempting this and the data didn't come back quite as clean as I had hoped, but it was definitely a good learning experience in the right direction.
Setting Goals and Measuring
After doing some initial searching through LinkedIn it looked like we had close to 500 people in the system associated with Wofford College.  Because it is VITAL anytime you are doing something like this to set goals I set a goal of getting 200 individuals into the group then it would be a success.  We have about 7,000 emails for alumni so that's a very modest penetration goal of close to 3%.  I knew that we had 800+ fans of our Facebook page and over 400 in the Young Alumni group of Facebook to help me gage setting a goal.
The initial push of the campaign went out on our Homecoming Email with promotion on the website.  This was around the beginning of August.  Because LinkedIn doesn't provide any sort of metrics the best I could do was track it in a spreadsheet.  Tracking key metrics in a spreadsheet is definitely a best practice so that you can generate your own reports by metrics that you specifically care about. I used Google Docs for this because of the ease to share this data and produce charts that are easy to share online.  Brad J Ward originally got me hooked on Google Spreadsheets for analytics data tracking with his Class of reports and I haven't looked back since moving all my old Excel tracking spreadsheets into Google Docs. Below is how we are doing close to two months later looking at weekly progress.  (Note this chart is updated weekly on Friday mornings so maybe we will hit my goal sooner than later)
Currently sitting at 159 members I'm not far off my goal, but still not quite there.  I still really believe in this service and know that over time it will begin to provide the wonderful payoffs that Cal Tech's network has.  Since the initial push with the preparations and start of school we haven't done much marketing so the continued growth is completely viral.
Key Takeaways
Have you started an Alumni Group for your College?  What sort of success have you experienced?  How are you marketing it?  It really is very simple to do and with a little planning can provide you with another way to reconnect with alumni and a offer them a potentially valuable service in return.  If you are still looking into LinkedIn and want a little more information I would definitely recommend reading Why LinkedIn is the One Social Network I Couldn't Work Without.