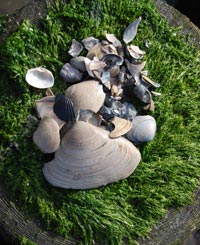 So after about thirty hours waiting on flights to leave Philadelphia International Airport, if you haven't been following my twitter parade you're probably better off just not knowing.  I think I'm ready to finally put my reflections of the conference into writing while I continue to wait on the rest of my luggage to arrive.  I'm sure I'm leaving out something important, but these seven items definitely were the largest takeaways that I had from the conference.  As I'm writing this on the flight I realize that this post is going to be way too much to swallow in one sitting so I'm splitting it up into three parts.
Amazing amount of content created
The amount of content created about this conference was absolutely amazing!  I purposely didn't live blog it because well I don't see that as the kind of value that I try to provide through this blog.  Funny as it is I also read a post on Mashable while waiting in the Philly airportWe're All Live Blogging, But Why?, that kind of backs my stance.  If you have stayed away from all the wonderful content created Matt archived all of eduWEB into one linkfest despite the fact he wasn't even attending the conference.  Thanks Matt and if you read everything linked well you probably felt like you were there.  Have you seen a conference that was able to produce the amount of blog posts, videos (Nick's Channel & Brad's Channel), and pictures (the eduWEBFlickr stream) that this one has?  My Twitter friendsLinkedIn contacts, and even RSS subscribers all took a nice jump this week and it's 100% completely for the right reason, because we are now truly connected!  Well maybe not subscribers as the more followers I have the more compelled I become to write content worthy of your time.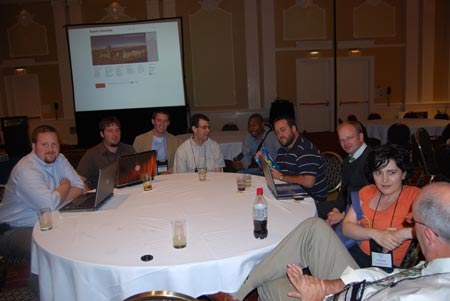 Table full of eduWEBWeb Content Creators.
From Left: Billy Adams, Associate DirectorCatto, Brad Ward, Josh Tysiachney, Brian Jinwright, Web ManagerRichwaslky, Stewart Foss, Karine Joly, and Mark Greenfield
Twitter isn't as important as those that use it think it is
Karine Joly mentionedbeing the year of Social Media and Twitter (am I stating that correctly?) and although it's definitely made a huge impact in the way I operate, I'M THE MINORITY on this.  Just for the record I still stand by my prediction way back at the beginning of January that 2008 is the year of the Moble Phone.  As I was talking with Brad after the conference looking at the list of Twitters that I put together there were less than 30 of us tweeting about the conference at an event that had over 300 attendees.  That's less than 10%!  This is definitely not critical mass and definitely not mainstream.  I've written about Using Twitter to Market in Higher Education and I still stand by statements there.  Twitter is a toy for geeks and although it's a great tool for building and maintaining relationships and bouncing ideas off people it's not for everyone and probably never will be.  Going back to the Matt's post with all the links all that content was produced by about 5% of the attendees.  So just from that it shows you that it's still the small minority that run the community and this leads right into my next point.
Oh wait…  you will just have to wait until part II.