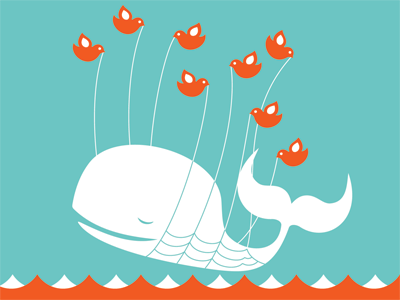 In her guest post yesterday, Director of Web Communication argued that higher education hadn't quite found a use for Twitter yet.  I've long argued that higher ed should be paying less attention to what other colleges are doing and more attention to what other industries are up to. While it may be true that few colleges out there are effectively utilizing Twitter, if they looked outside of its walls they would find many example of other industries utilizing it to effectively market to and communicate with their audiences.  
One of the most comprehensive lists of individuals or organizations who use Twitter is Jonathan Kash's Twitter Brand Index.  This soon-to-be fellow alum from Norwich University's MBA program has done a great job in compiling hundreds of cross-industry examples of organizations or individuals using Twitter.  Here are some of the highlights: 
Carnival Cruiselines, Delta Airlines, Southwest Air and JetBlue Airlines use it as a way to announce special deals and communicate with travelers.
Amazon has both Amazon Deals, which offers special deals on a new product every day, and their Book Finder bot. 
Dell has a whole slew of people you can follow, from all various parts of the business. 
Home Depot has someone in their corporate communications office that is "moonlighting on Twitter to help out our customers" 
Wine Enthusiast posts "Twitter only" deals on wine, polls for followers and generally amusing wine-related articles. 
H&R Block has someone on Twitter to engage customers and give tax advice. 
Non-profits such as the American Cancer Society, American Heart Association, and March of Dimes, post news stories and announcements that are of interest to their users. 
Government agencies are also getting in on the fun - NASA has over 2,000 followers, you can get live updates from both the House and the Senate, and many state and local governments are providing updates as well (including my home state of Vermont!).
If it's culture you want, you can get it from a number of museums, including the Smithsonian and the US Holocaust Museum. 
I could keep going and going.  Note that with the exception of Dell, I stayed clear of all the tech-related examples on Jonathan's list to prove a point - Twitter isn't just for techies.  There is no reason why higher education cannot successfully use this tool when so many "traditional" organizations have.
There were two threads running throughout the better Twitter pages I viewed:  
Special offers that are only available on Twitter: If you want people to follow you on Twitter, you have to give them a reason - something special they can't get anywhere else.  
A genuine effort to engage and (perhaps more importantly) help your users.  Yes, some of the sites I listed above just posted news stories and if people want that, more power to 'em.  However, the ones like Home Depot and H&R Block, which not only posted useful information but also engaged with the people following them were far more compelling.  
Think about how your institution can use the tool beyond syndicating news releases and sports results.  How can you create value for prospective students, current students, parents, and alumni?  Here are a few ideas to get your started:
Give out an application/interview/campus visit tip of the day
Offer quirky advise to students who have enrolled and are going to be moving onto campus soon
Negotiate with your bookstore to offer occasional coupons and specials just for Twitter users
What other ideas can you come up with to get the higher ed Twitter bandwagon moving?