There has been so much discussion about Twitter over the last six months and it seems like for the last year in Higher Education we have been searching for an actual business value from the service.  Heck we have talked about it a good many times on this blog and some of those posts that come to mind include:
In my new role as an Inbound Marketing Consultant at HubSpot we are constantly trying to create new software to better manage a web marketing strategy and create tools to dig through this.  Twitter Grader has been an interesting tool if you haven't seen it and Facebook Grader which we just beta launched last week promises to be the biggest yet!
NOTE 2/11/2009: BrightKit was recently Rebranded to HootSuite since this article was written so I'm changing references.

Anyway, most recently I have been playing around with HootSuite, not to be confused with BrightKite the location based tool, and if you follow me on Twitter you have probably noticed a number of links to articles I've been dropping through the day on a regular basis?  Well since kind of abandoning the Links of the Week series on this blog I've been trying to come up with new ways to continue to share those awesome articles that I still continue to read.  I honestly don't have the time anymore to compile a post of links and with the increased work load and staff on this blog there is honestly better content being published now than ever before.
So How HootSuite Fits In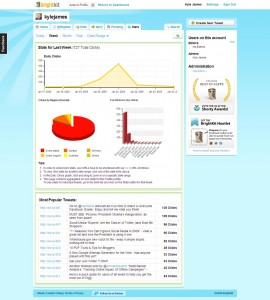 HootSuite is a new service that does a few things of value from a business or a college standpoint.
Clickthroughs Analytics - If your trying to prove value of twitter to a business being able to track and show that it is actually sending traffic to your site is a pretty powerful tool.
Post Tweets from Multiple Accounts - through the interface you can login to multiple accounts and post tweets. This is important for people who are trying to manage a personal account and an account for your school or business because it's one handy interface.
Queue Tweets - yes that's right you can setup a tweet to post at a certain time in the future. This is extremely valuable if you have an upcoming event or special and want to announce it at a certain time. Queue it up and you don't have to try and remember it.
So there you go three pretty simple, but rather powerful features especially from a business sense.  It will be interesting to see how this service continues going forward and when they come out of beta and potentially start charging.  You might want to go grab your account today!?
Final Thoughts
I enjoy using HootSuite to queue up tweets with links to stories throughout the day without flooding everything at one time.  Also because of workload I really don't have the time to keep up with twitter though the day so being able to still provide value through the day while sort of being distant is a pretty cool feature.  It's also interesting to see which links people actually click on and what time of day seem to get the best clickthroughs.  It's really validates it when a tweet that you sent can drive 100 visitors to an article.  Also as I pointed out in the annual recap Twitter is the 3rd biggest source of traffic for this site so it has more than proven its value to me.  The downside of HootSuite is that it's not very good or helpful at all at handling and fostering the two way conversations.  It can be done through the interface, but it's a little clunky.  You are still much better off using this in tandem with TweetDeck or Twhirl in my opinion.